WATCH: Richard Arnold Tries Out A Virtual Reality Slide And It's HILARIOUS!
8 August 2017, 12:35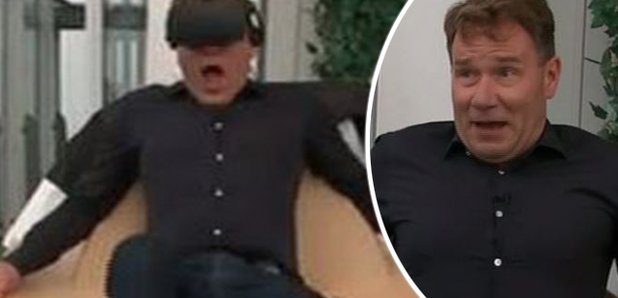 Good Morning Britain's Richard Arnold took one for the team on yesterday's show when he volunteered to give the new virtual reality experience at the Shard a go.
In the world of VR, Richard walked the plank 800 feet above the ground and then jumped from the Shard, followed by riding the slide across the London skyline.
There's just one thing: he's afraid of heights.
As he put on the glasses, he was transported into the shoes of a builder working on the tallest building in the UK, walking along a plank of scaffolding 95 storeys up.
Needless to say, Richard screamed in fright at the sheer heights he could see stretching out below his feet - which made for amusing viewing, as all we can see is the presenter standing still wearing a pair of funny looking goggles.
He shouted: "Oh my god, it's horrible. That's horrendous. I can't look down."
Richard received little support from his co-presenters Kate Garraway and Jeremy Kyle who were back in the studio, sat safely on the sofa, who couldn't stop laughing as Richard believed he was hurtling around a rollercoaster at 100mph.
You can give the virtual reality experience at the Shard a go yourself. You can find more information here.