Rylan Laughs Off Criticism Of His New Show 'Babushka'
3 May 2017, 10:57 | Updated: 14 July 2017, 11:11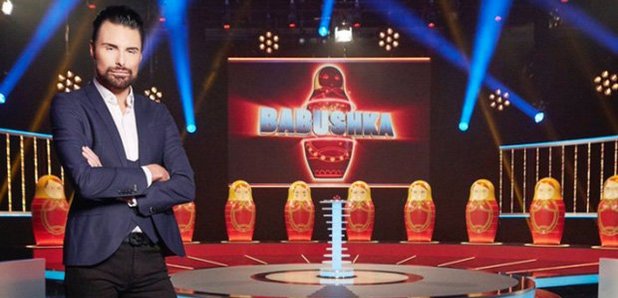 Rylan returns to Twitter to defend his addictive new gameshow.
Who knew that daytime telly could cause such a ruckus? Rylan Clark-Neal's brand new ITV gameshow Babushka has only just begun its month-long run, and it's already caused controversy. But Rylan is fighting back - with humour.
Fans of The Chase were not happy that their favourite was being 'replaced' by the new show. Poor Rylan, who is a vocal fan of The Chase, has recently been the victim of trolling on Twitter, including some homophobic abuse. All over a game show.
The host left Twitter for a while as a result, but thankfully he's returned to promote the new show - with the help of Morgana Robinson's brilliant 'Sonia from EastEnders' impression. We guess Rylan is 'just doing this now'!
Loved every second of @Babushka . Keep watching , you'll get into it. And remember what doesn't kill you makes you Sonia . pic.twitter.com/sp5w7fCE0e

— Rylan Clark-Neal (@Rylan) May 2, 2017
Babushka has been described as 'simple, addictive and slightly unhinged' by an STV executive. And we agree with Rylan that viewers will 'get into it.'
So what is the new show about? Well, the true stars of Babushka are the 10 Russian nesting dolls – correctly known as Matryoshka dolls. With names including Katya, Olya and Tatiana, these enigmatic beauties contain other smaller dolls within.
But here's the kicker – while most of the dolls contain money ranging from £500 up to a whopping £10,000, two of the dolls are empty. Can the contestant pairs answer Rylan's questions correctly and pick the right Babushka?
Rylan's new show has also received backing from celebrity mates including Claire Richards from Steps and queen of the jungle Scarlett Moffat. #TeamRylan
The similarities with the Noel Edmonds hit Deal or No Deal are obvious, and Rylan himself has said that Babushka is "Deal or No Deal for the modern times." But there has still been some griping from viewers and critics.
We say that Babushka is a just a bit of harmless fun, and that if any fans of The Chase are having major withdrawal symptoms they can always check out the 5pm repeats of the show on Challenge.
Also, it's worth pointing out that Bradley Walsh and his Chasers - the Governess, the Beast, the Dark Destroyer, the Sinnerman and the Vixen – always take a month off each year. The Chase is a huge hit for ITV, and isn't going anywhere, so let's all just take a deep breath.
The rest of us will play along with Babushka at home and try and crack the secrets of those ten Russian dolls. As Babushka's tagline reminds us: It's what's inside that counts…