Springwatch Presenters Warned By Bosses Over Utterly FILTHY Innuendos
11 July 2017, 11:42 | Updated: 14 July 2017, 11:11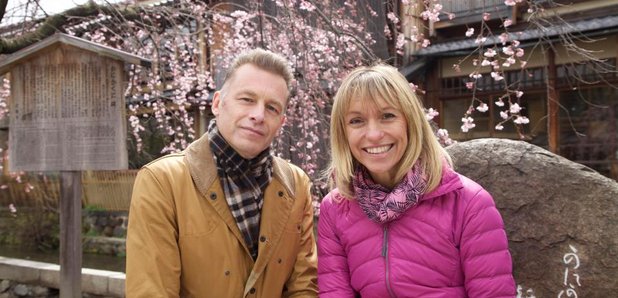 Chris Packham And Michaela Strachan have had to apologise after their cheeky innuendos on the show are considered one step too far.
For years, Michaela Strachan and Chris Packham have kept Springwatch viewers delighted with innuendos involving gazing at "great tits" and "deepest shags".
However, gone are the days of sneakily turning the air blue on the pre-watershed nature programme after BBC bosses have told the duo off for getting a little too naughty.
Chris told the Sun: "Michaela and I utilise whatever means we can to enliven the show — put it that way!
"We often get told off afterwards, we have had a warning for pushing it. But we are trying to appeal to a broad audience."
The 56-year-old naturalist defended their cheekiness, adding that many of their viewers aren't "hardcore" nature enthusiasts: "If we didn't entertain them with innuendos, I don't think the programmes would work."
In other nature-programme-news, The Really Wild Show is set make a television comeback.
The children's nature programme was pulled off air 11 years ago following two decades on screen, but fans may be in for a treat as the series' original presenters Chris and Michaela are in talks with the BBC about the possibility of doing a revamp in order to target a new generation of animal lovers.
Chris added: "There have been a few chats about bringing 'The Really Wild Show' back. There is certain nostalgia for it.
"Obviously, our co-host Terry Nutkins died a couple of years ago so it would be down to Michaela and I. But there's a huge adult population that remember the show with enormous fondness.
"Virtually every time I go out someone talks about it. They say: 'We watched you on 'The Really Wild Show' and now we watch you and Michaela on 'Springwatch' with our kids', and it's sort of fulfilling a circle for them.
"We hopefully inspired them when they were kids and now we're helping to inspire their own kids. So, yeah, we have been thinking about bringing 'The Really Wild Show' back, which could be quite good fun."
The reboot will also see Nick Baker and Steve Backshall, who fronted the later series of the original, return as presenters alongside Chris and Michaela.
Not much else is known about the comeback but it's expected to air on the BBC.