Susanna Reid Shuts Down 'Sex Symbol' Piers Morgan With This Epic Burn!
3 May 2017, 11:51 | Updated: 14 July 2017, 11:11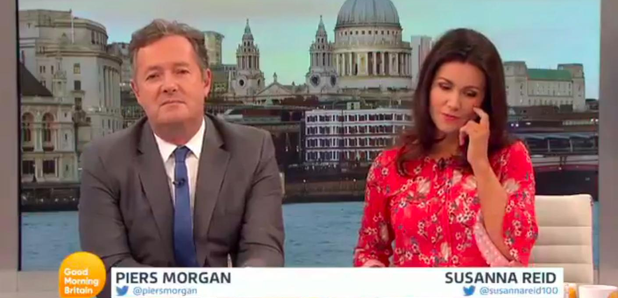 When Piers Morgan described himself as a 'sex symbol' on Good Morning Britain, Susanna Reid was having none of it.
Controversial morning TV presenter Piers Morgan has been at it again, causing mayhem with his outrageous opinions. This time, he described himself as a "sex symbol" on Good Morning Britain.
Piers, 52, made the playful comments after reporting that Corrie actor Shayne Ward is apparently frustrated about having to take his kit off on-screen.
Want some cream for that burn, @piersmorgan? @susannareid100 pic.twitter.com/3zbJIQFztm

— Good Morning Britain (@GMB) May 3, 2017
Piers said: "I'm sick of it, sick of being a sex symbol."The pressure to look this good in a morning is just too much."
Speaking on behalf of the nation, Susanna Reid quipped: "Yeah. Keep your clothes on - and we will all be grateful."
It's not the first time that Good Morning Britain has hit the headlines this week after weather presenter Laura Tobin revealed she and her husband Dean Brown are expecting a baby together live on air.
The 35-year-old presenter said: "I literally can't believe it's May so I thought I'd do a little forecast looking ahead at what is coming up.
"Now as we head through the summer months it's looking likely to be drier and warmer than average and as we head into September things will be blooming.
"But it won't just be my dress because I'm very pleased to let everyone know that come the end of October, I'll be having my own little ray of sunshine. I'm having a baby!"
And it wasn't just the early morning watchers who were in for a surprise as the brunette meteorologist admitted she hadn't told her family apart from her parents. Piers, 52, said: "So your family are watching this and they've found out you're expecting? Aww, that's lovely news."
Laura and Dean have been married for seven years and the forthcoming addition to their family, who is due in five months' time, will be their first child.