The Teletubbies Have Had Babies And The Internet Goes Into Meltdown
27 July 2017, 12:58 | Updated: 27 July 2017, 14:37
The children's TV characters from the 90s have had babies dubbed the Tiddlytubbies and we can't handle the cuteness.
Children of the 90s - and parents of children of the 90s - are all too familiar with the four fuzzy, alien-like, characters that live in Teletubbieland. If we're honest, we're not sure if they're friends, siblings or a conventional family of four.
And thanks to the lack of human language, we're not entirely sure who out of Tinkywinky, Dipsy, Laa-Laa and Po are girls and who are boys. But that doesn't matter in today's day and age anyway.
Regardless of the Teletubbies ages and gender, they've had babies and the internet can't cope.
Well, we're not sure if they are technically their babies, but either way, the people on twitter noticed the eight adorable Tiddlytubbies on TV and now we're in meltdown mode.
It's thought that they were first introduced in 2015 and they live in their own special part of the Home Dome.
Sometimes, the Teletubbies visit the Tiddlytubbies at the gate between the two realms for playtime.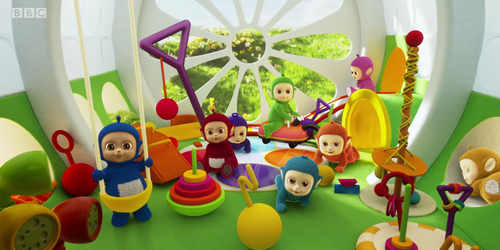 Picture | BBC
Just like the Teletubbies, each of the Tiddlytubbies are different colours with very sweet names.
There's Daa Daa, Baa who loves to pop up unexpectedly and surprise everyone by shouting his name, Ping who plays the xylophone, best friends Nin and Duggle Dee, orange coloured RuRu, quiet and sleepy Umby Pumby and their ring-leader Mi-Mi.
Now doesn't this make you feel old?
The Tiddlytubbies are living proof that no one will ask questions, as long as you are cute.