Viewers Complain About Kelly Brook's Odd Presenting Style On Lorraine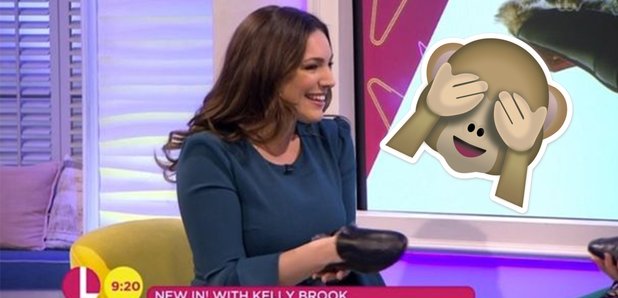 The model's TV presenting debut was on daytime talk show Lorraine this week, but some viewers weren't impressed!
We are all used to seeing Kelly Brook on our screens whether it's as a guest on Celebrity Juice or in acting roles on our TV and cinema screens.
But would you believe that this week was Kelly Brooks presenting debut?
And it was as the presenter of the fashion segment on ITV's Lorraine!
However, her hosting debut didn't go as smoothly as she may of hoped as many branded her presenting skills as too loud.
She clearly was so excited to be on the show, but some fans wished she would 'turn the volume down' as she chatted with Lorraine Kelly about high street trends.
Watching Kelly Brook talk (shout) about fashion on Lorraine is making me cringe to death.

— Ellis Rose Crawshaw (@ellisrosec) January 27, 2017
Had to turn tv volume down when Kelly Brook came on, her voice is headache inducing! In fact..just switched off. #Lorraine

— Oor Foxy Linda Indy2 (@linannlum) January 27, 2017
Omg kelly brook giving me a headache why is she shouting!! Shut up #lorraine #itv

— Jenna Steel (@JennaSteel2) January 27, 2017
Poor Kelly! We certainly can't blame her for being excited, especially as it was her first time hosting a segment of a TV show.
Maybe she'll turn the volume down next time!