Watch Hilarious Moment Weatherman Is BLOWN AWAY On Live TV
27 June 2017, 16:37 | Updated: 14 July 2017, 11:11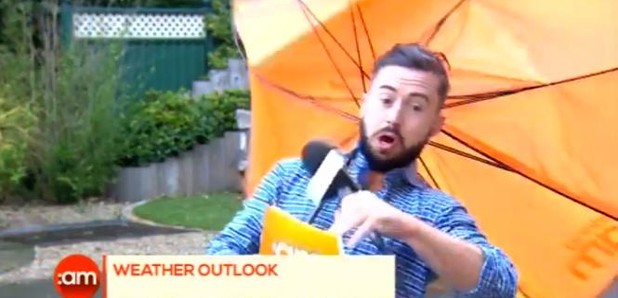 An Irish weatherman was blown off-camera by a ferocious gust of wind - and his co-presenters couldn't stop laughing!
Sometimes we can't help but distrust the weatherman. He might be promising glorious rays of sunshine later on but right now it's drizzling outside our window.
However, there's no denying that when Ireland AM's weatherman Deric Hartigan says that there are "strong winds" you have to believe him.
Partly because right after he described the windy weather on live TV, a huge gust of wind caught in his bright yellow umbrella and actually blew him off-camera!
And as if that wasn't funny enough, his TV3 co-workers back in the studio were left rolling on the sofa, crying with laughter.
Luckily a windswept Deric saw the funny side as the camera flicked back to the presenter clutching onto an umbrella turned inside out.
After the show, Deric took to Instagram to make light of the blunder. He wrote: "Mother nature most definitely got the better of me this morning @irelandamtv3 . That's why I love live breakfast TV."
Awkward!