Dec does well! Fans congratulate star after Saturday Night Takeaway solo stint
31 March 2018, 22:42 | Updated: 19 October 2018, 18:13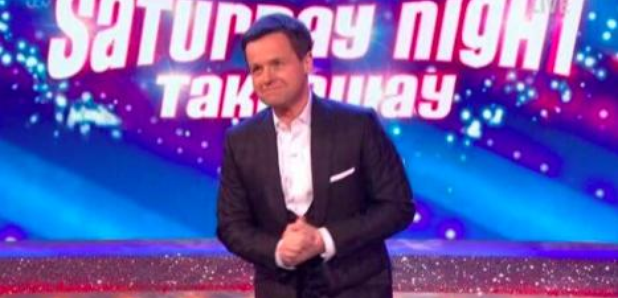 Declan Donnelly joked he had 'twice the work to do' as he presented Saturday Night Takeaway without sidekick Ant McPartlin for the first time.
The 42-year-old failed to address the reason behind his best friend's absence but made a few cheeky jibes about going it alone.
The pair have become the nation's most popular and successful presenting duo since meeting on Byker Grove in 1989.
Read more: ITV back Ant and Dec to host I'm A Celebrity
In 2002 the first episode of Saturday Night Takeaway aired and the pair had previously vowed never to appear without the other.
But Dec made the decision to go ahead alone for the final two shows of the series for the fans after Ant's return to rehab.
Social media was flooded with messages of support and congratulations from fans and famous faces after the show pulled in 8.6 million viewers.
My husband didn't cry at the birth of either of our children, but he just teared up when Dec came down the stairs on his own #saturdaynighttakeaway

— Jane with a Why? (@jainblack) March 31, 2018
Declan Donnelly has just pulled off a double act performed by one person. Get this man a knighthood. #SaturdayNightTakeaway

— Toby (@tobysd10) March 31, 2018
Declan Donnelly you did amazingly, well done! #SaturdayNightTakeaway dec

— Becky Perry (@BeckyPerry49) March 31, 2018
Declan Donnelly absolutely smashed it tonight what a little legend! @antanddec

— aynslie barker (@AynslieJade) March 31, 2018
Well done Dec. You were brilliant as usual! @antanddec #SaturdayNightTakeaway

— Alan Shearer (@alanshearer) March 31, 2018
Tonight's episode of @itvtakeaway was a triumph. Bravo to Dec @antanddec. I've known those boys for 20 years, and they've been nothing but gorgeous to be friends with.

— Antony Cotton (@antonycotton) March 31, 2018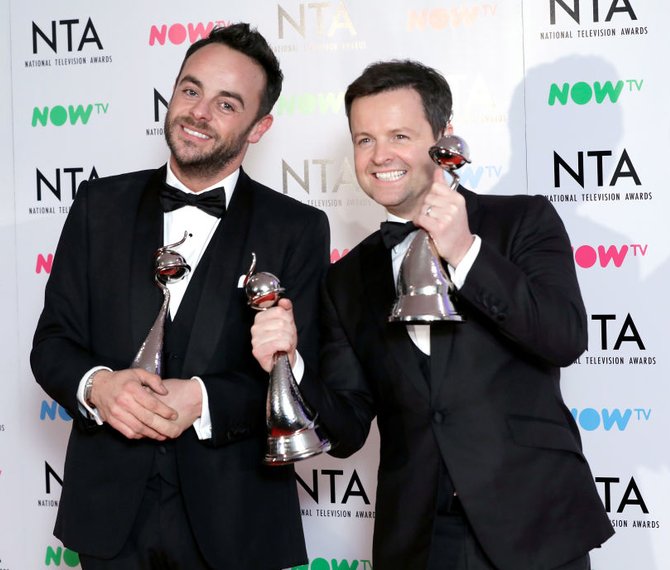 In happier times. Credit: Getty
Dec looked visibly nervous as he first addressed the audience but got a standing ovation and swiftly eased into proceedings.
Thanking singer Paloma Faith for opening the show, Dec joked: "Thanks for that. I've got twice the amount of work to do so we're going to crack on."
He's got Dec's appeal! #SaturdayNightTakeaway pic.twitter.com/S8xFbV8kdb

— Saturday Night Takeaway (@itvtakeaway) March 31, 2018
Another time he quipped: ''I'll have to do this on my own — like everything else this week" and joked that the audience hadn't gone home yet as it hadn't gone "that badly."
Later he added: "Work is unavoidable for some of us." Show regular Stephen Mulhern and guest announcer Stephen Merchant asked if he wanted some help but Dec politely declined their offers.
At the end of the show, Dec wished fans a happy Easter and thanked everyone for their support.
Thanks for all your lovely messages tonight, they are VERY much appreciated, I'm glad you enjoyed the show. I didn't sleep an awful lot last night so I'm off to bed! Night y'all. D x

— antanddec (@antanddec) March 31, 2018
Ant did appear in a pre-recorded skit called Saturday Knight Takeaway with Joanna Lumley and Emilia Fox and his name still appeared in the credits.
He is expected to feature in a similar fashion in next week's grand finale which is being broadcast live from Orlando, Florida.
He is seeking treatment for addiction for the second time in a year after being charged with drink-driving on March 18th following a car accident.
The turbulent past year has also seen Ant split from his wife of 11 years Lisa Armstrong.