Disney Club And Nickelodeon Stars: Where Are They Now?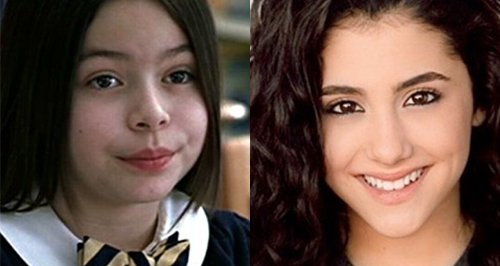 The Problem singer Ariana Grande and School of Rock star Miranda Cosgrove once dominated our TV screens in popular shows on both the Nickelodeon and Disney channels. Now, they've grownup and their careers have soared.
We all remember Ariana Grande, Laura Marano, Keke Palmer, Ross Lynch and Miranda Cosgrove as baby face actors but flip the cards over to see what they look like now.
Scroll down to see what they are all up to now!
Ariana Grande once played Cat Valentine in Victorious on the Nickelodeon channel. Now she's a pop sensation with hits such as Love Me Harder, Break Free and Bang Bang.
Cute Laura Marano played Ally Dawson in the Disney Channel series Austin & Ally. In 2015, she's still an actress on the Disney Channel, continuing her role as Ally.
Do you recognise Keke Palmer? She played True Jackson in True Jackson, VP on Nickelodeon. Since the final episode in 2011, Keke's acting career has blossomed and is now trying to break in to the world of music.
Ross Lynch starred as Austin Moon in the Disney series Austin & Ally, alongside Laura Marano. He is a super talented musician and plays the guitar, piano, bass, drums and he can sing! He is now touring with his band R5.
You may remember Miranda Cosgrove as Summer Hathaway in School of Rock, but she is probably more famous for her Nickelodeon roles, Megan in Drake & Josh and Carly in iCarly. She is still an actress and attended University of Southern California working on getting her degree.
No matter how much these child stars grow up, we'll always remember them as the cuties they played in our favourite shows!