Dom Joly's 'Trigger Happy TV' Will Be Returning To The Small Screen This Month!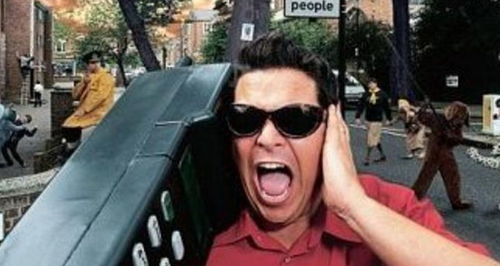 The ultimate prankster is making a comeback but you'll need the internet to watch it.
It was the show that featured hidden cameras, rubbish pranks and Dom Joly walking around shouting "HELLO?" into a giant mobile phone.
After 13 years of it being off our screens, Channel 4 are bringing Trigger Happy TV back, complete with Dom and a brand new giant smartphone.
Channel 4 will be bringing a series of eight, six minute episodes to their digital video service, All 4. Although you won't be able to watch the episodes live on telly, you will be able to stream the series as of September 26th.
"I have wanted to bring Trigger Happy back for around seven years but was keen to do it in a different way," Joly told Broadcast.
"By doing it online we had more control and were given more time to make sure we had it working perfectly. We had a very small production team with a real gang spirit."
The classic sketches have had a revamp to keep up with modern society, so we can expect to see 'Angry Cyclist', a photobombing 'Emoji Face' and something called 'Big Vape', which has us intrigued...