Ed Sheeran Appearance On Game Of Thrones Has Left Twitter Seriously Amused
17 July 2017, 11:39 | Updated: 17 July 2017, 11:42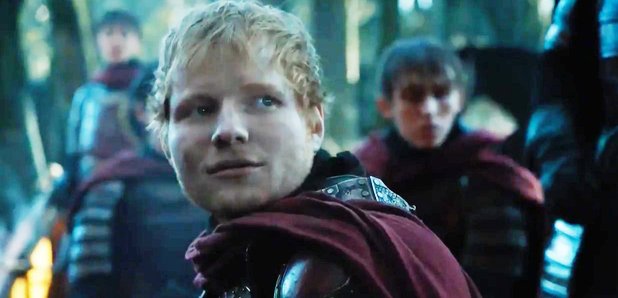 The 'Thinking Out Loud' hitmaker made his hotly anticipated cameo on the popular series, but some viewers have been left bemused.
If there's one advice that Game Of Thrones fans have for Ed Sheeran, it's stick to the singing.
The flamed haired pop star finally made his long-awaited cameo in the fantasy drama on Sunday night as the show returned for its seventh series.
Character Arya Stark was travelling on horseback through a wood when she stumbled upon a group of soldiers, which included Ed who just happened to be singing a campfire song.
Night made!!! @edsheeran #dragons #jonsnow #kitharrington #Dragonstone #GameOfThrones #GoT
Wicked episode!!! pic.twitter.com/oi1Yld9jOy

— Stef Canonico (@StefCee13) July 17, 2017
The 27-year-old singer is then seen turning towards the camera for a not-so-subtle close-up, before being shown in a string of shots throughout the scene.
Ed's cameo sparked a huge response on Twitter, with many fantasising hilarious scenarios for the singer to play on the show.
Arya: "That's a pretty song."
Ed Sheeran: "It's a new one... off my brand new album, 'Divide,' in stores now!!!!"#GameOfThrones pic.twitter.com/nsAumXug7K

— Zach Goins (@zach_goins) July 17, 2017
If Arya doesn't burn Ed Sheeran he'll come back as a white walker and be playing Westeros Glastonbury for thousands of years. #GoTS7

— Zack Jones (@ZackJ0nes) July 17, 2017
Game of Thrones season 8: James Corden does Wagonpool Karaoke with The Hound

— Christopher Hooton (@ChristophHooton) July 17, 2017
Ed just one of the many A-listers who have all made cameos in Game Of Thrones including members of Coldplay and Snow Patrol.
The scene left the door open for the singer to also feature in the next episode, though he doesn't feature in the trailer for it.
Could he become a regular? We hope so!