'Hollyoaks' Announced The Departure Of Popular Character Freddy Roscoe In A Most Unusual Way
13 April 2017, 10:50 | Updated: 14 July 2017, 11:11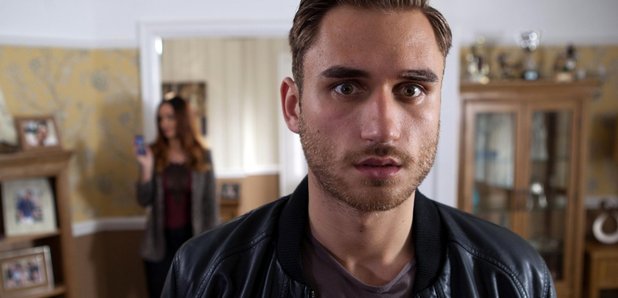 Freddie Roscoe is leaving Hollyoaks! But you'll never guess how the soap revealed the sad news.
All week long Hollyoaks have been planting Easter eggs in their show, revealing secret plot twists and – in this case – dramatic news!
So, it wasn't in the conventional way that the departure of villainous Freddie Roscoe was announced – but in the end credits instead!
In the credits it says 'goodbye Freddie roscoe'
Really don't want Freddie to leave #HollyoaksEasterTrail #hollyoaks pic.twitter.com/Z1fwXnhfQX

— Eric J Wilson (@ericwilson9890) April 13, 2017
As the cast list scrolled at the end of the programme as usual, some beady eyed fans spotted something wrong with Charlie Clapham's (who plays Freddie) credit.
It says 'Goodbye Freddie Roscoe' and fans were quick to jump onto Twitter and share their dismay!
My faves always leaving. Love me some Freddie Roscoe! #Hollyoaks

— Jessika (@xAyeJess) April 13, 2017
Just found out Freddie is leaving hollyoaks... it won't be the same #hollyoaks

— HS (@hannahsidwell) April 13, 2017
Freddie Roscoe is leaving @Hollyoaks and I am NOT okay with that! Where have all the Roscoe's gone?#Hollyoaks

— emilyjluty (@emilyjluty) April 13, 2017
And actor Charlie Clapham confirmed the news in a heartfelt Instagram tribute to the Hollyoaks cast and crew.
He said: "Thank you to everyone at Hollyoaks, the staff throughout the building, the production team"
"The best 4 years of my life...thank YOU Hollyoaks"
Freddie Roscoe has had a dramatic time in Hollyoaks and narrowly avoided death in 2015 when he survived a run in with the 'Gloved Hand Killer'.
And his recent storyline has involved settling down with and supporting girlfriend Ellie Nightingale after she was brutally raped by Nick Savage.
Members of the Roscoe family have already left the show – such as Ziggy, Joe, Jason and Robbie – so Freddie's departure will mean an end to the entire family.
He'll be missed!