Line Of Duty Fans Can't Trust Vicky McClure After Role In The Replacement
27 March 2017, 12:03 | Updated: 14 July 2017, 11:11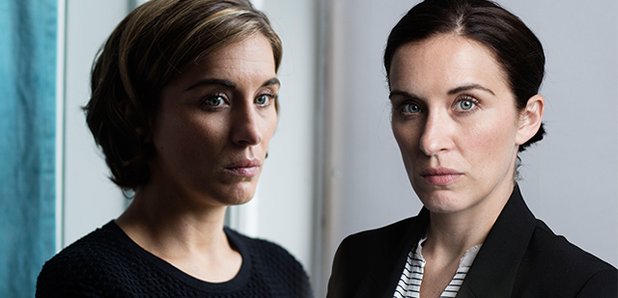 If you tuned into the highly anticipated third series of Line Of Duty last night then you may be among the viewers who really struggled to trust DS Kate Fleming.
Actress Vicky McClure was back on our screens on Sunday night as AC-12's DS Kate Fleming but fans couldn't get their head around the fact that she is one of the good guys.
After just one week off our screens between the broadcasting of The Replacement and Line of Duty, fans are getting Vicky's characters mixed up.
Remember, we trust Vicky McClure in this one #LineofDuty #TheReplacement pic.twitter.com/CO1cKEztjb

— Hollie Borland (@HollieBorland) March 26, 2017
Vicky's performance as deranged architect Paula in The Replacement had fans hooked for three consecutive weeks. But now, viewers are having to forget Paula and remember that Vicky is one of the investigating officers on the right side of the law.
While The Replacement's Paula was a classy, wealthy architect (albeit a crazed killer), DC Fleming is a bit more rough and ready, and not afraid to go undercover to investigate a bent copper.
One viewer expressed their relief at seeing Vicky back fighting for the greater good and tweeted: "So comforting to have @Vicky_McClure back as a goodie. #TheReplacement #LineOfDuty"
Superintendent Ted Hastings = The King of Sass. #LineOfDuty pic.twitter.com/Jrz6ScNAo8

— BBC One (@BBCOne) March 26, 2017
Meanwhile, another fan talked about their confusion and continued to get the two characters mixed up. They tweeted: "Anyone else watching #LineofDuty & struggling to remember that Vicky McClure is a goody after her convincing psychopath in #TheReplacement?"
Vicky has previously spoken about what it took to get into the character of Paula, who had to undergo a series of beauty treatments including a weekly spray tan for The Replacement.
She said: "I had a spray tan every week. I had blonde highlights put through my hair. And then I had false nails, which completely ruined my own nails.
Well, if @Vicky_McClure says so… #LineOfDuty pic.twitter.com/CafKp40167

— BBC One (@BBCOne) March 26, 2017
"We took it as far as reality allowed. She wore bright pink pencil skirts and we tried to make sure that all her clothes were just slightly too tight. It's kind of that she's trying, but it's not quite working. You can tell she's a little bit confused."
She even admitted that it was tough playing the character as she, herself, found Paula so "horrific".
She added to The Times newspaper: "After takes, I'd want to shake her off. It was like, 'Argh, she's horrific.'
"And Morven would be like, 'Urgh, what was that?' and I'm like, 'I don't know and I'm sorry, but urgh!'"

Who leaves the room alive? We need your theories and we need them now! #LineOfDuty pic.twitter.com/6mP02MNrSX

— BBC One (@BBCOne) March 26, 2017