Eamonn Holmes Reveals He Won't Be Inviting Ruth To His OBE Ceremony!
2 January 2018, 12:01 | Updated: 2 January 2018, 15:01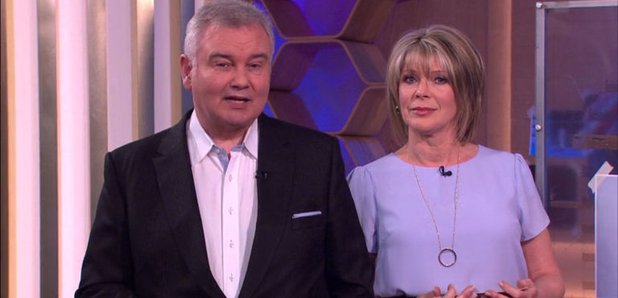 The landmark occasion will be one of the broadcaster's proudest moments but his wife Ruth might not be there to witness the occasion.
Eamonn Holmes has admitted that his wife Ruth Langsford may have to "stand aside" when he receives his OBE from The Queen.
The famed presenter was named on the New Year's Honours list for his services to broadcasting and will receive the Officer Of the Most Excellent Order of the British Empire accolade.
While most people who are honoured have their wife proudly standing by their side, Eamonn has revealed that Ruth may have to take a backseat in favour of their two children.
Asked by host Ben Shephard how many tickets they get and who he'd invite, Eamonn replied: "I'm not sure Ben, three [tickets] would be lovely."
"Asked how he's going to decide who goes," Eamonn added: "My daughter loves the Royals so I'd like her to be there. My son Jack wants to be there. So Ruth may have to stand aside. She would do that."
Despite admitting that Ruth might be snubbed from the ceremony, Eamonn did say that he really would love his wife to be there and is hoping to nab extra tickets.
He added: "It'd be nice to have three, that would settle it. But I really need about seventeen I think."
Meanwhile, Ruth has been more than happy to heap praise on her husband for his outstanding achievement and took to Twitter to share the news.
SO proud of my husband @EamonnHolmes All his years of broadcasting rewarded with an OBE!!! Congratulations darling x pic.twitter.com/3VCOLJmCqQ

— Ruth Langsford (@RuthieeL) December 29, 2017
Speaking on the New Year Honour Eamonn said: "It's like getting a gold star for your homework. 2018 will be my 38th year as a broadcaster and I can't think of a better way of marking that."
Let's hope his whole family will be there to see his big day!