Eastenders Make Hilarious Error As Robbie Gets 'Trapped' In Queen Vic
15 December 2017, 11:34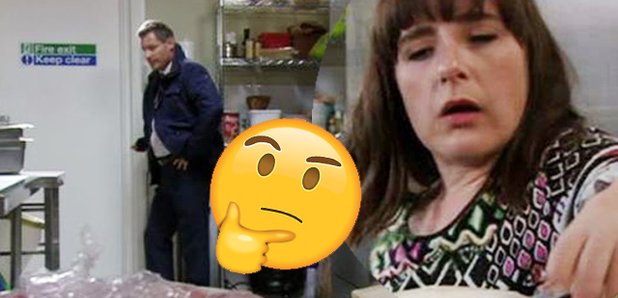 Fans were left in stitches after two "dopey" characters fail to spot a key factor that could of helped them escape.
Nothing gets past the eagle-eyes of Eastenders fans, however, the soap's latest blunder was so obvious it was a little hard to miss.
Viewers we left shocked when the notorious Charlie Cotton made a sensational return to Albert Square, however, attention soon turned to another storyline which had viewers scratching their heads.
Robbie Jackson and Donna Yates, who have kept fans captivated with their love-hate relationship in recent weeks, were trapped in the kitchen as part of a clever plan.
Whitney lured the pair into the pub kitchen, then locked the door in a bid to set them up, leaving them stuck together.
However, viewers were quick to spot that the "dopey" pair hadn't noticed the HUGE fire exit door right in front of them which could of helped them to escape.
After being tricking the duo into entering the kitchen, Whitney slammed the door shut and locked it, shouting: "You can thank me later."
Robbie furiously banged on the door in an effort to escape and even claimed it was "kidnap" - which of course left fans in fits of laughter at the sheer ridiculousness of the situation.
Locked in a kitchen.. with that.. only dopey Robbie can't go out the fire exit #eastenders

— AntMUFC™ (@ant7sys) 14 December 2017
Donna and Robbie are locked in a room, that has a door with a massive sign saying "FIRE EXIT" and they haven't even tried it #Eastenders #QualityWriting

— Scott Wilks (@scottwilks) 14 December 2017
Locked in a kitchen but stood right next to a fire exit...its a shame people on this show dont have common sense #eastenders

— Karl Denham (@itskarlden) 14 December 2017
The pair managed to resolve their differences and even leaned in for a cheeky kiss before Whitney burst in to ruin the romantic moment.
The blunder might have been silly but it certainly made for an entertaining watch!