These Two Eastenders Characters Might Be About To Destroy The Queen Vic!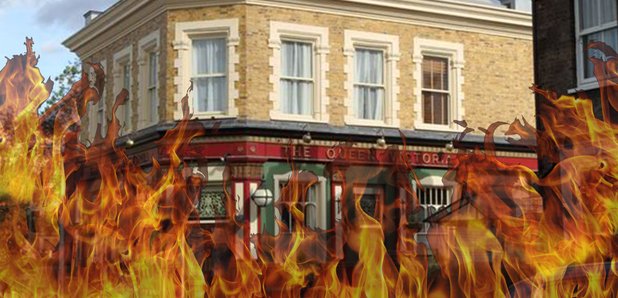 These two characters could be teaming up to take down Mick Carter's famous pub.
Many of us were pleased to see the back of Aunt Babe when she departed Albert Square dramatically last week.
The evil villain of the square abandoned Sylvie close to death after tricking her to swim across the canal and was soon found out and kicked out of the Old Vic for good by the Carters...or so we thought!
Could she be back to darken their door soon?
In recent episodes, viewers have seen Max Branning teaming up with a sinister figure who wants his help to destroy a part of Albert Square, starting with Mick Carter's pub the Old Vic.
Max quipped that the place could burn for all he cares which has led fans to believe there might be an arson storyline coming up and others going as far as thinking Aunt Babe could be in on the action too!
Max wants to burn down the pub...babe curses them and the pub...either they are teaming up or its it's some foretelling...#EastEnders

— James Dwyer (@jamesdwyer192) February 9, 2017
Is Aunt Babe gonna burn down the Queen Vic or something?! #EastEnders

— George W.W (@GW_78) February 9, 2017
#eastenders Aunt Babe will burn the Vic down paid by Max

— Anita Sillick (@anitaapplebum13) February 9, 2017
#ICURSEYOU genuinely terrified of #auntbabe on @bbceastenders wonder if she'll team up with Max to bring The Vic down...

— Carly (@Carlieee) February 9, 2017
Will these fan theories ring true? One thing's for sure, they both have the motives to take down the place !
But even is Aunt Babe doesn't get involved in the sinister plot, could Max use her as a scapegoat to get away with it?
So many questions! We can't wait to see how it will unfold...