Is This How Danny Dyer Will Be Written Out Of Eastenders?
3 March 2017, 12:08 | Updated: 14 July 2017, 11:11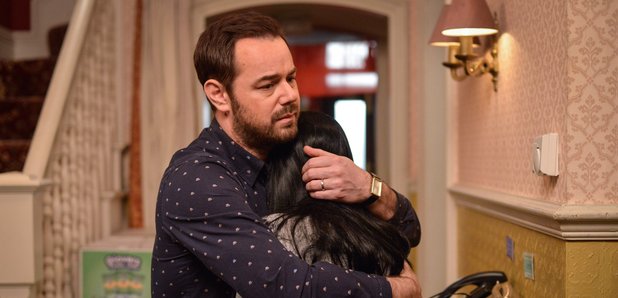 Danny Dyer has asked producers if he can take a break from Eastenders due to exhaustion.
EastEnders' loveable landlord Mick Carter is set to be sent to prison for the foreseeable prison.
Danny Dyer - who portrays Mick - recently asked producers if he could take a last-minute holiday in order to recuperate from his hectic filming schedule. However his dramatic dash has meant that bosses have been forced to quickly re-write the storyline surrounding his major character to avoid disruption.

Danny Dyer is taking a break from playing Mick Carter. Picture | BBC
A source told the Daily Star newspaper: "Some said the prison storyline is by far the easiest way of cutting him out of the show at such short notice. Other ideas were tabled, but they wanted something to tie in with Mick's turbulent life on the Square.
"And it will mean Danny could stay away for as long as he needs to recuperate and get back to work at which point Mick can be released from jail."
It's not how known when the scenes will air but it's expected to be soon as Mick, his mother Shirley Carter (Linda Henry) and Aunt Babe (Annette Badland) - who has since left the show - recently found themselves in hot water with the police after they were caught breaching their alcohol licencing by serving booze before their permitted time.
The trio were ordered to pay a hefty fine to cover the crime they've committed but Mick's recent financial woes means he'll unlikely be able to cough up the cash in time.
Danny is currently in South Africa with his wife Joanne Mas and their three children; Danni, 20, Sunnie, 10, and Arty, three, but bosses are desperate for him to return.
The insider explained: "His departure from the soap has been a major headache for producers and they are desperate for his return. His character is central to many key storylines that are filmed about six weeks in advance."