Eastenders Fans In Shock As Poor Dot Has Dangerous Car Crash
24 February 2017, 11:19 | Updated: 14 July 2017, 11:11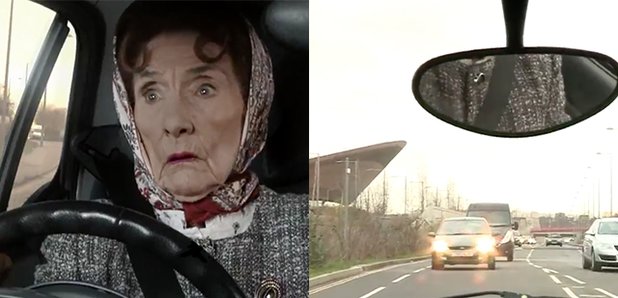 Eastenders fans were on the edge of their seat during the final scenes of last night's episode!
Drama has come to Walford and this time the unlikely victim is Dot Cotton!
Dot was driving her grandson Matthew to the garden centre when a Sat Nav she had borrowed from Jack Branning turned faulty.
It sent her onto a dual carriageway heading the WRONG WAY and into oncoming traffic before she swerved off the road into a verge.
Then of course the infamous 'duff duff duff' drum beats chimed in and the credits rolled, leaving the fates of Dot and Matthew hanging.
And understandably, Eastender's fans were left totally distraught at the thought of Dot being in any sort of peril...
OMG did they just kill Dot!? #EastEnders

— Alex Phillips (@ItsAlexOkay_) February 23, 2017
Dot driving is way more tense than the Bus Crash...#EastEnders @bbceastenders

— Mark Phillips (@mrkphllps1) February 23, 2017
But some were less than convinced by the crash...
Dot had a bigger car crash with the trolley in the garden centre #eastenders

— Sandra (@Sandyboomer) February 23, 2017
Was hoping for some action #eastenders !!! Bang, crash, drama! All we had was stressed Dot rolling gently into the grass. Ahaha! Hilarious

— CelinaGombedza (@AvocadoLondon) February 23, 2017
That was the most unrealistic car accident EVER. Get off the horn Dot #EastEnders

— Rachel Lane (@rhl1992) February 23, 2017
We'll have to wait until tonight to see if Dot's ok!