EastEnders Unveils Masood's New Family
16 November 2017, 11:31 | Updated: 16 November 2017, 11:41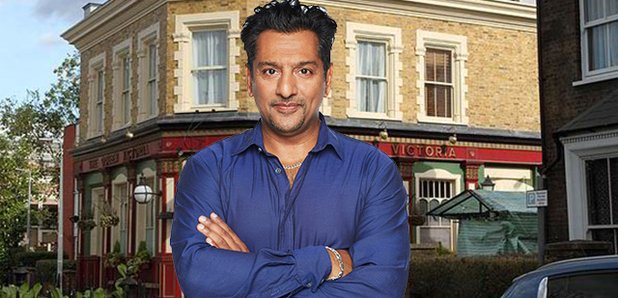 The soap favourite is heading back to Walford.
A new family is arriving on EastEnders – and they'll be centred around one of the show's most popular characters. Viewers already know that postman Masood Ahmed (Nitin Ganatra) is returning. But he will soon have company.
The BBC soap has revealed the first image of new characters aunt Mariam and uncle Arshad. The couple decide to rent Masood's house in the new year and will make their debut in Walford after spending much of their lives in London.
An EastEnders spokesperson told The Metro: "The Ahmeds have lived in London for most of their lives but wanting a bigger house to enable them to continue with their fostering they decide to take Masood up on his offer of renting number 41. Little do they know what awaits them when they set foot in Albert Square."
We like the sound of them being foster carers, as it creates lots of potential for new younger characters, just like Home and Away used to do.
Arshad is described as "jovial and mischievous" while Mariam is known to have a "no-nonsense yet gentle attitude and kind soul". Actress Indira Joshi, known for her role in The Kumars at No. 42, will play Mariam while stage actor Madhav Sharma, who has also had roles in Doctor Who and Casualty, will play Arshad.
Masood left Walford last year with son Kamil to jet off to Pakistan in an attempt to reunite with his estranged wife Zainab (Nina Wadia), who left in 2013. That clearly hasn't gone well, as he'll initially be returning on his own and then swiftly followed by his relatives.
Masood lived on Albert Square from 2007 to 2016, and was a hugely popular character. Even if he is returning without Zainab, Kamil or his adult children Syed (Marc Elliott); Shabnam (Rakhee Thakrar) and Tamwar (Himesh Patel), we're pleased that EastEnders bosses are constructing a new family around him.
Hopefully his aunt and uncle are just the start of a new Ahmed clan.