CRINGE! Fans Slam Eastenders For This Awkward Stormzy Rap
13 June 2017, 17:02 | Updated: 14 July 2017, 11:11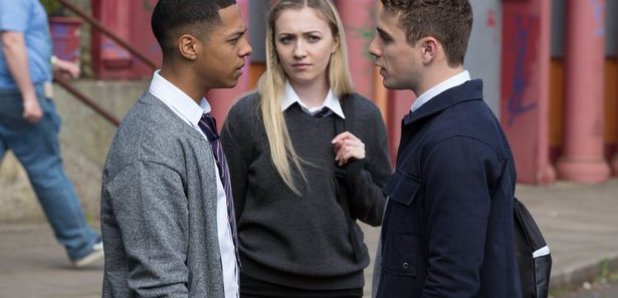 Did you catch the awkward moment Travis referenced Stormzy at the bus stop?
Younger fans of Eastenders were left less than impressed after Walford schoolchildren began 'spontaneously' performing lyrics from a Stormzy track.
Travis Law-Hughes (Alex James Phelps) challenged Keegan Baker (Zack Morris) to perform Shakespeare in front of a crowd of school kids at the bus stop.
omg they fully quoted stormzy on eastenders im screaming pic.twitter.com/ftZfJr7pUO

— Ikran (@ikrandahir) June 12, 2017
After Travis refused to rise to the bait, Keegan offered a sneering compromise and told him he could rap a Stormzy song instead.
Keegan quipped: "What do you know about Stormzy?" to which Travis replied: "Well, I do know that you're getting way too big for your boots!"
Cringe. And it gets worse because the school kids gathered at the bus stop then blurted into their own take on Stormzy's Big For Your Boots.
And it looks like the moment didn't go unnoticed by eagle-eyed viewers.
Eastenders characters singing Stormzy is a contender for best / worst scene this year #eastenders

— Nathan Lissner (@Nathan_curly) June 12, 2017
That Eastenders Stormzy scene is potentially the worst thing I've ever seen

— Matt Naden (@Naden96) June 12, 2017
Painful #Eastenders Stormzy references. Awkward like that time that your Dad said he liked Kasabian.

— bobby n (@BobbyNuisance) June 12, 2017
After seeing this stormzy thing on eastenders I've come to the sad conclusion I no longer wish to live

— A$AP ROBBIE (@RobFlayers95) June 13, 2017
Just when producers thought they were down with the kids. Awkward....
Listen to the original song here: