'EastEnders': Has Whitney Carter Left Albert Square For Good?
30 May 2017, 10:34 | Updated: 14 July 2017, 11:11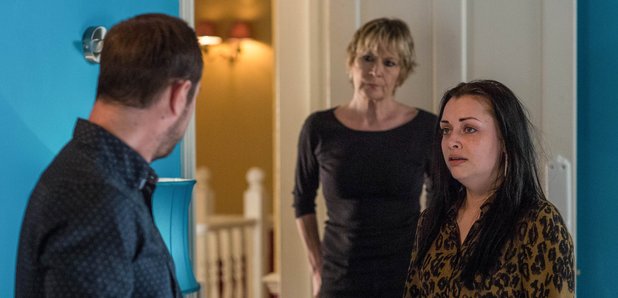 Monday's episode may have come as a shock for fans of the character.
Whitney Carter's life has been full of turmoil lately and this week's Bank Holiday episode could have been the last EastEnders fans have seen of the character.
After kissing her father-in-law Mick Carter and a run in with Shirley she was told she's no longer welcome at the Old Vic.
It was only as Mick tried to reach out to her and apologise for the inappropriate snog that he realised she had headed off on the tube from Walford East, possibly for good.
It is yet to be revealed to viewers where she is heading but Eastenders bosses have confirmed an explosive three handed episode involving Mick, Whitney and Linda which will revolve around the kiss.
Is Mick's marriage on the line? Will Whitney come back eventually? There are so many questions!
why'd Whitney have to leave EastEnders, she's one of ma faves

— Daniel McArdle (@dannymc2011) May 30, 2017
I'm happy that Shirley gave Whitney what she deserved but it's unfair how mick didn't get the same treatment? He's married worse #eastenders

— natasha (@tvthings_) May 29, 2017
Whitney made the best decision to leave the Vic and go see Bianca. I just hope she doesn't come back. #eastenders

— RobRon*Malec (@TanakaBro4Neigh) May 29, 2017
If Whitney has exiled herself from Albert Square and the Carter maybe this could be her chance to return and get some things off her chest.
There are a lot of unanswered questions and loose ends for Whitney's story so the planned episode with the three Carters will certainly be eye-opening!
And as for Mick, he'll likely be angry at Shirley for driving Whitney away before he got a chance to stop her.
It'll be interesting to see how this all pans out!
This isn't the only gripping storyline on Eastenders this summer, as if the trailer is anything to go by we could have a death on our hands.
The death of beloved resident, Dot Cotton! The explosive Eastenders teaser trailer saw Dot lying lifeless on the floor of her kitchen and a distraught looking Sonia standing in the square with an ambulance.
But is all what is seems...