Adele Throws A DIVA TANTRUM In EPIC Prank On Unsuspecting Public!
Ellen in Adele's Ear
05:50
The 'Hello' hitmaker transformed into the customer from hell during her appearance on the the Ellen DeGeneres show.
Adele is probably the most down to earth star ever, so we were a little bit shocked when she threw her Hollywood name around in a bid to bag some freebies at a local juice bar.
The 25-year-old singer showed off her best acting skills during a segment on the Ellen DeGeneres show, where she was sent out to pull a hilarious prank on the public.
It's no doubt employees at Jamba Juice bar in Los Angeles were a little shell shocked to see the Grammy Award-winning star rock up to their shop, but little did they know they really were in for a surprise!
With Ellen giving her instructions into her earpiece, the singer went to the counter of the smoothie chain in a department store and tried to be as difficult as possible.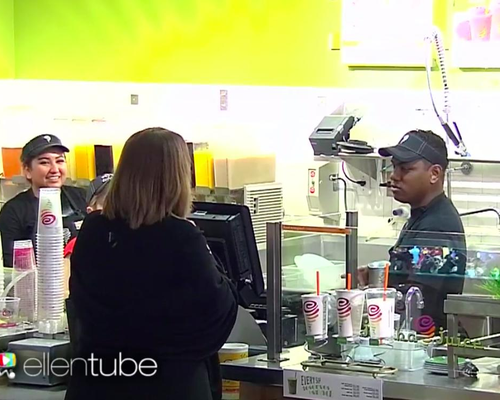 First she asked for a large smoothie in a small cup before insisting that staff add alcohol to her drink!
Finally, she pulled the classic line: 'Do I pay? I'm a celebrity.'
Hilarious! We know Adele already has an Oscar, but we think she deserves one for her acting skills this year!
Adele is just one of many hilarious guests Ellen DeGeneres has had over the years.
The American chat show host is the widely acclaimed Queen of the couch Stateside... and we couldn't be more thrilled that her TV program is coming over here for us to enjoy too! Check out some more clips of her very best famous friends.
Dancing to Beyonce's 'Crazy in Love' with Barack Obama:
Let's face it, when you get the leader of the free world breaking it down to the sassiest lady in pop on your TV show, you basically know you've made it.
The Dennis Quaid Starbucks stunt
So back in 2008 Ellen sent 'Parent Trap' actor Dennis Quaid into a local Starbucks cafe and ordered him to repeat everything she said through a secret microphone in his ear... needless to say, the results are hilarious. "DENNIS QUAID IS HERE!"
Then there was the time she ordered pizza for the entire Oscar Awards audience in 2014:
Cause y'know... people get hungry.
The time Ellen put a hidden camera in David Beckham's dressing room
Apart from anything else, who doesn't want to watch DB get topless whilst a poor unsuspecting masseuse is subjected to his critical comments at the hands of Ellen.
But who knew David Beckham had such a thing against thumbs...
Playing 'Never Have I Ever with One Direction':
If nothing else, Ellen is a brilliant interviewer. Watch as she puts her powers of interrogation and deduction into practice on the 1D boys.
We're surprised the lads aren't crying by the end of this...
Did we mention Ellen is VERY good at scaring people... especially Taylor Swift
Since her now legendary 'bathroom scare' of Tay Tay back in 2010, we can safely say Ellen's made it her mission to give the poor lass a bit of a fright as often as she can. Check out these brilliant stunts...
The time she brought exercise bikes into the studio and got Ryan Gosling to cycle as he answered her grilling questions...
Plus, the hunky movie star makes sure the WHOLE audience get their own onesie to take away with them... WHAT a guy!
If there's one clip from Ellen's show that you absolutely HAVE to watch, it the lady herself reading an extract from 'Fifty Shades of Grey'.
We are literally wetting ourselves laughing!
The time Ellen dresses up as Columbian actress Sofia Vergara:
'The Modern Family' star maybe one of the sexiest actresses' in Hollywood at the moment, but that still doesn't mean she takes herself too seriously... which is just as well, because this fancy-dress sketch is absolutely merciless.