Emmerdale Has Trolled Its Viewers With An Intentional 'Gaffe'!
4 July 2017, 17:22 | Updated: 14 July 2017, 11:11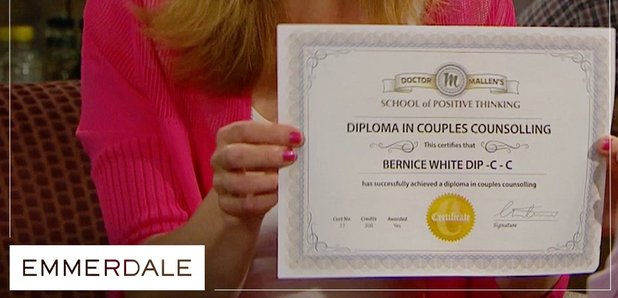 Eagle-eyed soap fans thought the show had made a mistake. But there's more to the tale...
Sharp-eyed Emmerdale viewers thought they'd spotted a potential gaffe in Monday night's episode after Bernice White revealed a surprising new career direction.
Unlucky-in-love Bernice (Samantha Giles) excitedly revealed that she had trained as a couples counsellor online, but her diploma didn't bear much scrutiny. The ever so slightly dodgy certificate from the famous Doctor Mallen's School Of Positive Thinking showed that Bernice had earned a 'CERTIFICATE IN COUPLES COUNSOLLING.' And we don't have to consult our dictionary to know that's not how you spell 'counselling.' Oh, Bernice. What are you like?
Beauty salon owner Bernice was delighted to show her friend and employee Kerry (Laura Norton) and her partner Dan (Liam Fox) her new certificate, complete with dodgy spelling, but they weren't very impressed.
Kerry asked her: "Who does that belong to?" "Me, I'm now Bernice White DIP-C-C!" she replied, to which Kerry responded: "Well I guess you know how NOT to do it husband wise, you've had old ones, gay ones…" Ouch. Although Kerry does have a point, as Bernice has four failed marriages behind her.
Fans thought it was hilarious and quickly spotted the mistake.
@emmerdale who spelt the word 'counsolling' on Bernice's certificate? #counselling #emmerdale

— Sally Jayne (@SallyJayne84) July 3, 2017
However, the dodgy spelling was intentional on the show's behalf. It's all part of a comedy storyline after Bernice qualified online through a random website. There's a lesson for us all there.
Bernice is now a qualified couples counsellor...#Emmerdale pic.twitter.com/iCiF4DSkBP

— Emmerdale (@emmerdale) July 3, 2017
We quite like the fact that the show slipped this in there to see whether viewers would notice. We wonder when the characters will realise that Bernice's diploma isn't worth the paper it's written on?
But even if Bernice's track record on the romantic merry-go-round isn't the best, she'll still have plenty of potential clients among her neighbours. With the amount of infidelity and broken hearts in the village, she should be booked up until Christmas.