Emmerdale's Kim Tate could MURDER one of these 14 characters
25 September 2018, 11:55
The Dales' ultimate super-bitch is back next month for a one-week revenge spree... and it'll change the village forever.
Kim Tate's dramatic return to Emmerdale leaves fourteen characters at risk of her scheming ways… or even death.
A glossy new trailer for the character's highly anticipated return highlights several characters that are at risk of falling foul of her vengeful ways on her one-woman revenge mission.
These are....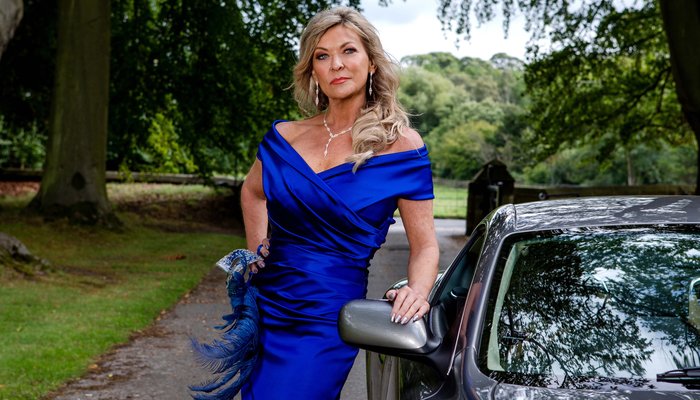 Kim Tate will make a glamorous return to the Dales next month (Image: ITV)
Joe Tate
Kim's step-grandson could be the third generation of Tate she tries to murder after watching his grandad Frank die, and attempting to bludgeon his dad Chris to death.
Debbie Dingle
Now loved up with Joe, her mum Charity had an ill-faited marriage to his dad, later leaving him to start an affair with her cousin Cain Dingle, Debbie's dad.
Graham Foster
Fans believe that Kim was the mystery woman he was having an affair with when his wife was killed - and it's KIM he's been looking after Joe for, not his mum Zoe.
Priya Sharma
One of Joe Tate's employees at Home Farm, she could give Kim access to vital information.
Charity Dingle
If Kim tried to take on the Dales' current bad girl Charity, who knows what could happen?
Vanessa Woodfield
If Kim wanted to take down Charity, then her partner Vanessa would be a good starting point.
Ross Barton
The character is leaving this year, wouldn't being taken out by Kim be a great way to go?
Rebecca White
She's just escaped death once, will it be second time lucky?
Moira Barton
She can't stop telling people she killed Emma and let her son Adam take the rap for it - will Kim come for her like a shark smelling blood?
Cain Dingle
If Kim and Graham really do have a hidden connection, Cain's feud with him could prove to be his demise.
Faith and Sam Dingle
Charity's mum and her gentle-hearted nephew Sam wouldn't stand a chance against Kim.
Kerry Wyatt and Dan Spencer
Kerry's in financial difficulties - would this make her turn to the dark side and help Kim for a bit of extra cash?