Emmerdale Fans Left In Hysterics Over Kinky Handcuffs Gaffe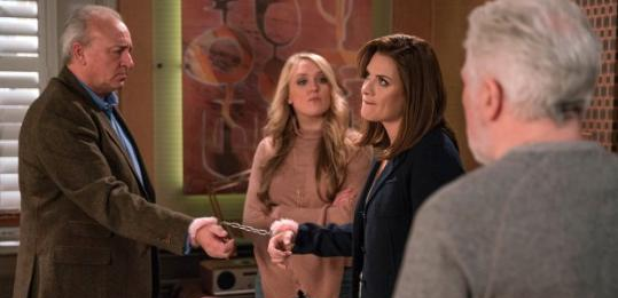 Viewers of the ITV soap were left baffled as to how the characters could possibly stay handcuffed together.
Eagle-eyed Emmerdale viewers proved they certainly know a thing or two about how fluffy handcuffs work after they called out the soap for their hilarious gaffe this week.
Chrissie and Lawrence found themselves locked together on Thursday night and spent the entire episode chained together with an accessory that wouldn't look out of place in Christian Grey's bedroom.
However, viewers at home were quick to point out that sexy handcuffs always have a safety latch, so the pair could have easily released themselves.
Everyone knows fluffy handcuffs fall apart as soon as you put any pressure on them Fed up of The Whites. #Emmerdale

— DatingFails (@Dating_Fails_) 8 March 2017
Everyone knows that fluffy handcuffs have a little release catch and no key, especially if you own a pair #Emmerdale

— Zombie 404 (@VampLover27) 8 March 2017
Those novelty handcuffs have a safety catch that enables you to undo them without using the key, so I'm told :-) #Emmerdale

— Penn Wooding (@BrixhamUK) 8 March 2017
Hmm...We wonder how they know that eh?
To be fair, the producers probably did know what the safety latch was, though something tells us that uptight Lawrence has probably never seen a pair of fluffy handcuffs in his life!
This made the episode even funnier, as the timid character spent the entire day with the fiesty Chrissie. Whatever you thought of the gaffe, it certainly made for entertaining viewing!