Emmerdale viewers impressed as Rhona and Marlon communicate in Makaton sign language
21 August 2018, 11:14 | Updated: 21 August 2018, 12:38
The characters used Makaton to talk to their son during last night's episode - and fans loved it.
Emmerdale fans were impressed to see Rhona Goskirt and Marlon Dingle communicating with their child using Makaton sign language on last night's episode.
The characters have a son called Leo who has Down's Syndrome - however up until now fans haven't seen the couple spend much on screen time with him.
But last night, during a rare scene, the parents were seeing using Makaton to talk to him and many viewers at home took to Twitter to say how impressed they were.
Lovely scene. Nice to see makaton being used and it's lovely to see more of Leo too

— (@Lovelyaaron2) August 21, 2018
Well done @emmerdale for adding Makaton in the soap too!

— me (@MrsKatEdd) August 20, 2018
Well done #Emmerdale for bringing makaton into soaps. At last #inclusion

— gina (@Mydailymotherb1) August 21, 2018
Many people tuning in at home were chuffed to see the soap raising awareness of this form of sign language as a means of communication.
Makaton is not to be confused with British Sign Language which is predominantly used by deaf people as a first language in the UK.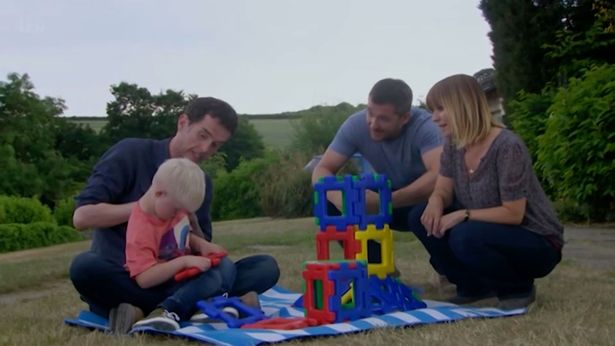 Makaton is a language programme that is not necessarily used by those who are deaf but those who have difficulties communicating with speech, such as those with Down syndrome and autism.
During last night's scene on Emmerdale, Rhona and Marlon were explaining to Leo that Rhona's boyfriend, Pete Barton, would be moving in with them.
However, Leo doesn't seem to respond and instead continues to play with his toys making Pete believe he isn't happy but Marlon and Rhona assure the opposite is true.