Is This Emmerdale's Craziest Week EVER?
5 October 2017, 12:15 | Updated: 5 October 2017, 15:26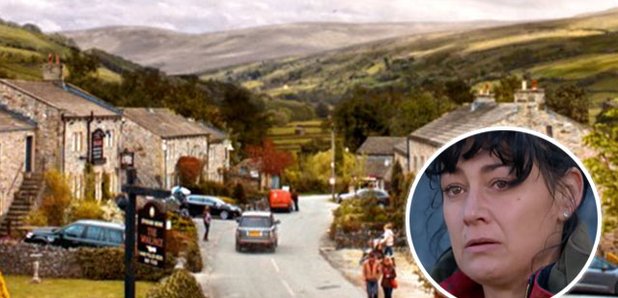 The drama has been relentless.
We thought country living was meant to be peaceful, but not for the residents of Emmerdale. The picturesque Yorkshire village has seen it all over the years – a plane crash; multiple fires and explosions; a serial killer; a helicopter crash and a motorway pile-up. But this week could be the most dramatic yet.
Fans had been warned to expect an intense week where 'at least' one character would die as Emma Barton (Gillian Kearney) caused mayhem. Monday night's over the top cliffhanger, which saw Emma trapped in a barn fire with her nemesis Moira (Natalie J. Robb) was surely as crazy as it could get.
Will Moira pull through? #NoReturn #Emmerdale pic.twitter.com/Jnm73EJvfC

— Emmerdale (@emmerdale) October 4, 2017
However, events have spiralled even more out of control for the cursed Barton family. Moira is unconscious in hospital, having given birth to a baby boy. Moira's nephew by marriage Pete (Anthony Quinlan) is allegedly the babydaddy, which would merit a soaptastic episode of the Jeremy Kyle Show.
But we wouldn't be surprised if Moira only made this claim so that Emma would save her and her 'grandson.'
That would leave Moira's ex husband Cain Dingle (Jeff Hordley) as the proud papa, which would put a spanner in the works with his new love, village vicar Harriet (Katherine Dow Blyton)…
Finn! Cain and Harriet have saved the day...or have they? #NoReturn #Emmerdale pic.twitter.com/aiE5YH6Oj8

— Emmerdale (@emmerdale) October 4, 2017
Meanwhile, Emma's youngest son Finn (Joe Gill) – who knows that she killed his father James (Bill Ward) – was accidentally shot by her. Are you still keeping up?
Finn's hot headed half brother Adam (Adam Thomas) has now been arrested for attempted murder after he was seen waving around the shotgun in question. Could he go down for a crime he didn't commit? (We know the actor is leaving the soap).
Just as we were catching our breath last night, poor Finn began to flatline as his helpless brothers looked on. Is this the end for the village's resident geek?
But that wasn't the final shocker, as viewers also saw crazy Emma somehow manage to pose as a hospital nurse, infiltrate the neonatal unit and kidnap Moira's baby!
Where will it all end? With three episodes of this big Autumn week still to go, it's anybody's guess. Perhaps a UFO will crash into the hospital?