Leyla Finally Discovers Pete's Scandalous Affair On Emmerdale!
29 August 2017, 12:58 | Updated: 29 August 2017, 14:49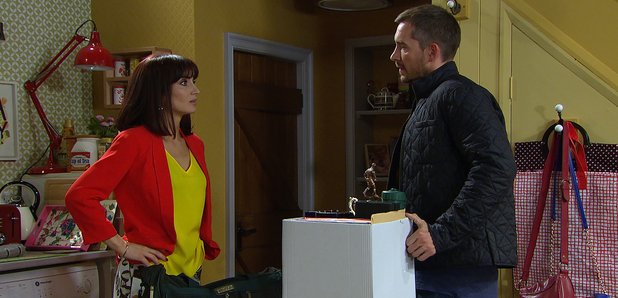 Priya had better start running now...
When will the residents of Soapland learn that if they have affairs then the truth will always be revealed eventually? Next week the cat will be out of the bag for Emmerdale's Pete Barton, when his ex Leyla discovers that he's been sleeping with her so-called best mate Priya.
We've already got the popcorn on standby for this one.
Pete (Anthony Quinlan) cheated with Priya (Fiona Wade) during the final stages of his doomed romance with Leyla (Roxy Shahidi). Hilariously, Pete and Leyla both recently jilted each other on their wedding day, due to last minute jitters.
But poor Leyla remains blissfully unaware of the true reason behind Pete's wobble – but not for long.
"You trollop!" [Picture: ITV]
Hot But Dumb Pete only has himself to blame for his secret being revealed, though, as he makes a huge error in confiding in his mother, Emma (Gillian Kearney).
When Emma – never Leyla's biggest fan – criticises her almost daughter-in-law to Pete, her guilty son admits that he was the real villain in their relationship.
A shocked Emma is unable to help herself, and confronts Priya with this new information. Let's just say it's not a pleasant conversation – and if we were Priya, we'd avoid having any chats with Emma on top of motorway bridges. #justsaying
Soon, Leyla also hears the truth – and just as Pete was hoping to reunite with her. How will she react?
Emmerdale producer Iain MacLeod recently told Digital Spy: "I think one of the most interesting things about this story is the friendship. People talk a lot about Pete cheating on Leyla, but actually I think the real betrayal is between the two best friends."
He continued: "Romantically speaking, I think Pete realises the error of his ways. Once lust has ebbed away, you're left with the person you have a genuine connection with, and he's going to come to regret his actions. It's not the end of the story – and it's not the end of Pete and Leyla in some form or another."
Emmerdale airs these scenes on Thursday, September 7 at 7pm and 8pm on ITV.