Fans Call For EastEnders Director To Be 'FIRED' For Dodgy Gaffe!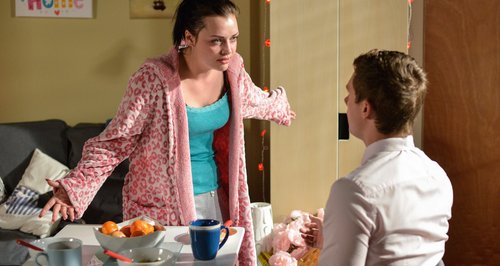 Fans took to Twitter to express their anger after what should have been a tense scene was ruined with dodgy background music.
The scene which caused a lot of upset amongst Twitter fans was a tense argument between Lee and Whitey.
But many commented that the background music was so awful they couldn't concentrate on the confrontation and many complained the music choice altogether was very dodgy indeed.
Some even called for the director of the show to be FIRED!
Someone fire the new #Eastenders director who not only allows seasick cameras but also the most lifeless and dull background music EVER.

— ali cooper (@alizombie_) November 25, 2016
What's with the dodgy music drowning out dialogue in tonight's @bbceastenders #eastenders?

— bradders. (@ctchsd) November 24, 2016
Why is there always dodgy music being played in Whitney & Lee's bedsit?#EastEnders

— Andy Gibson TV (@AndyGibsonTV) November 25, 2016
If you're one of the people that missed out on what was going on during Thursday's episode because of the music then don't worry, we can fill you in.
Whitney was accusing Lee of cheating on her when he disappeared the night before, but he managed to calm her down by insisting that he was buying her Christmas presents...however sadly, he was lying.