WATCH! Fans Can't Get Over Dolly Parton's CBeebies Bedtime Stories Debut
26 October 2017, 12:41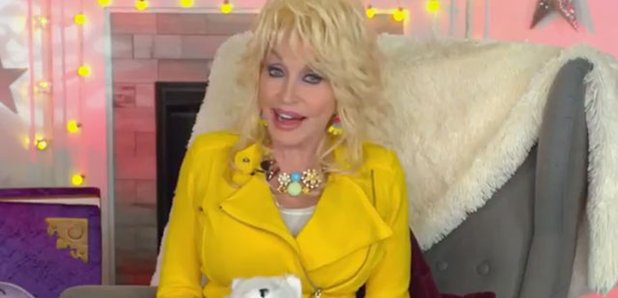 Never mind the fact it's a kids show, Dolly had parents from all over, HOOKED.
Whilst we were convinced that Tom Hardy was the only celeb that could receive an encore for his CBeebies Bedtime Stories appearance, Dolly Parton proved she isn't far behind, following her debut yesterday.
Mums and dads couldn't get enough as the country singer graced the screen to read a bedtime story to their kids. And if her presence wasn't enough, the teaser for the programme began with the perfect pun with Dolly explaining: "I'm Dolly, and I've been working 9 to 5, and I just got home, just in time to read you all a bed time story" - AMAZING.
Despite it being a kids show, some parents unashamedly admitted to their little ones being asleep as they watched Dolly in excitement!
Cbeebies bedtime story with Dolly Parton. FAB-U-LOUS. The best part is the kids have already been in bed 15 minutes. I feel no shame.

— Mike Smith (@geek_on_a_leash) October 25, 2017
Dolly Parton makes me happy #CBeebies

— Sarah Wallace (@OneEyedSarah) October 25, 2017
So excited for @DollyParton to read the bed time story fan cbeebies! Number one fan!

— chelsy morgan (@chelsymorgan1) October 25, 2017
Seeing @DollyParton reading the bedtime story on @CBeebiesHQ got me like

Eagle when she flies childhood #memories

— Nicola Abbotts (@NicolaAbbotts1) October 25, 2017
OMG @DollyParton reading on Cbeebies, it's like i'm 5 years old again

— Ann-marie Batchelor (@Pubprincess) October 25, 2017
At last I can tick "watch Dolly Parton tell a bedtime story" off my bucket list #cbeebies

— Sid (@StrictlySid) October 25, 2017
I don't have kids but @DollyParton reading @CBeebiesHQ bedtime story @_DOGLOVES is actually the best thing ever. https://t.co/sChfzGko2u

— Shiona McCallum (@shionamc) October 26, 2017
We're sure we'll be seeing you back on our screens very soon, Dolly.
Watch more: