Fans Left Emotional By Carrie Fisher's Last Ever Performance As New Star Wars Trailer Is Released
10 October 2017, 08:47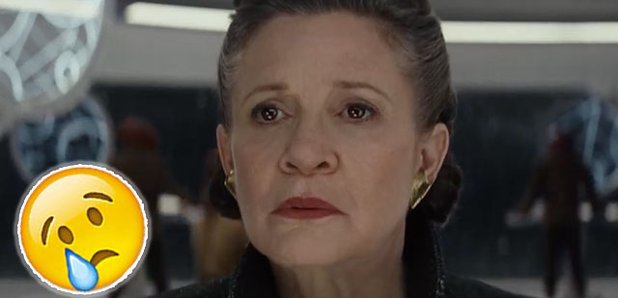 Carrie Fisher's appearance in Star Wars: The Last Jedi trailer leaves fans welling up
Despite knowing that Star Wars: The Last Jedi trailer was set to feature the late, great Carrie Fisher, emotions still ran high for fans following her appearance in the latest trailer.
The trailer which aired yesterday during half-time on ESPN's Football, picks up where 2015's "Star Wars: The Force Awakens" - with Rey going to find Luke Skywalker, who was in hiding following her battle with Kylo Ren.
At the Star Wars Celebration, Daisy Ridley explained: "In The Last Jedi, we go deeper into Rey's story. Rey has a certain expectation as to what she might be getting from Luke and what that might entail."
Whilst Luke takes centre stage in the trailer, actress, Carrie Fisher who passed away last December, became the main topic following it's release. Most fans confessed to tearing up upon seeing her face, whilst others wished she could've been here to see the movie herself.
Watched #TheLastJedi trailer 10x & it's impossible not to get misty-eyed every time Carrie Fisher is onscreen. She should be here to see it. pic.twitter.com/YOWu92Ngee

— Adam Best (@adamcbest) 10 October 2017
Seeing Carrie Fisher hurt my heart.

— Ryan Parker (@TheRyanParker) 10 October 2017
RT if you think Carrie Fisher deserves a star on the Hollywood Walk of Fame

— to me, she's royalty (@tobrightlights) 7 October 2017
I was not prepared for how emotional i would be seeing Carrie Fisher #TheLastJedi pic.twitter.com/AJWfoahDhq

— Alex Bruce-Smith (@alexbrucesmith) 10 October 2017
Me after watching The Last Jedi trailer: "Will I ever again see Carrie Fisher and NOT burst into tears with love?"

— Tom Sanderson Sister (@ThomasSanders) 10 October 2017
What a legend.
Watch More: