Fans Share Grief As Karen and Kevin Dance SEPARATELY Amid Split Rumours
11 December 2017, 11:30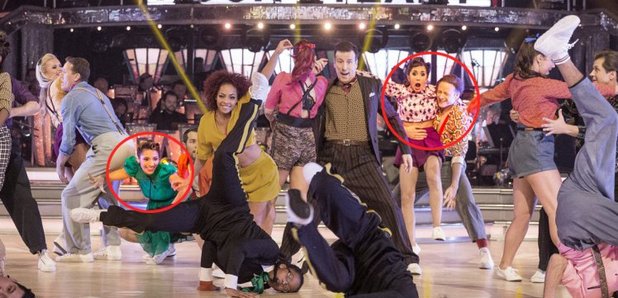 Fans of Strictly Come Dancing expressed their hurt over what appeared to be confirmation that the ballroom's golden couple have split.
The rising tensions between Kevin Clifton and wife Karen Hauer took centre stage during the Strictly Come Dancing result show on Sunday night.
Fans took to Twitter to share their dismay after the professional dancers paired up with different partners following reports their marriage is on the rocks.
The couple, who have been together for seven years, has been the centre of speculation as of late after it was reported Karen had "moved on" with accountant Stuart Wood.
Strictly's Karen and Kevin choose different dance partners - https://t.co/yDkNDtUAZQ #BallroomDance #ClaudiaWinkleman #KarenClifton #StrictlyComeDancing #Television pic.twitter.com/PWGoQHnX9n

— SpRncH (@SpRnch) December 11, 2017
Now it seems the drama off-screen has carried over onto the ballroom, as eagle-eyed viewers were quick to notice the pair were seemingly avoiding each other during the show's opening sequence.
Performing a lively Rock City themed group dance, Karen, 35, took to the studio floor with Brendan Cole, while husband Kevin, also 35, danced with Janette Manrara.
One viewer wrote: "Kevin isn't dancing with Karen. Maybe the rumours are true…"
Elsewhere a second fan added: "Maybe Kevin and Karen have split. He wasn't dancing with her."
Before a flurry of tweets from fans came rolling in...
Has anyone spotted Kevin Clifton on #strictly tonight? I haven't..just wondering if the rumours about him and Karen are true?

— bernice bassett (@bernicebassett) December 9, 2017
Maybe Kevin and Karen have split. He wasn't dancing with her #Strictly

— Alika Innocent (@BadgyalAlika) December 10, 2017
Despite appearing to go their separate ways on the dancefloor, Kevin was spotted still wearing his wedding band while talking to host Claudia Winkleman during Saturday night's live episode.
Their marriage was rocked by recent reports Karen had moved on with accountant Stuart Wood but new reports by The Sun claim she has decided to cool things off with him.
"It was never a long-term thing and Karen realises that she made a mistake," they explained.
"She ended things with Stuart shortly after the news broke. He is heartbroken as he thought they had a future together so has decided to accept a new job and will move to Texas next month to start a fresh chapter."
It's also thought the couple could be spending Christmas separately as they decide on the future of their marriage with Karen heading to New York and Kevin going back to his hometown of Grimsby before reuniting in the New Year.
The news comes after growing fears that the couple have been hit by the Strictly curse.
"Poor Kevin is heartbroken," a source admitted. "It's making it very difficult at Strictly as all the dancers knew but Kevin did not want to accept that his marriage is over."
The pair, who are both professionals on Strictly Come Dancing, raised eyebrows after appearing to be kept apart on the live shows.
Speaking to the Daily Mail, the insider admitted that 'the writing is on the wall' as Karen ignored Kevin throughout Saturday's show.
"Kevin was on his own before and after the show in the green room. At one point he was outside looking very upset on the phone after the show. Everyone feels sorry for him as he still in love with her. But it's also very awkward for the other dancers as [they] could cut atmosphere with a knife."
Let's hope the pair can resolve their issues.