Corrie Fans Spot Clanger During Roy's Fall That's SO Bad It's Hysterical
4 January 2018, 11:45 | Updated: 4 January 2018, 12:25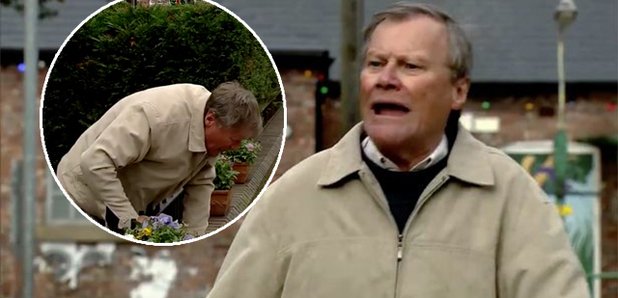 Did you notice something bizarre that happened when Roy nearly got hit by that car?
Soap fans are some of the most eagle eyed out there, so it was no surprise that this bizarre moment during last night's Coronation Street didn't go unnoticed!
Poor Roy Cropper took a tumble over a garden wall when a car almost veered into him as he stood on the pavement.
Fans were shocked by this stunt from Roy but this isn't the only thing that left viewers stunned as Roy seemed to turn into a totally different person before the stunt happened...
Roy turned into someone else before he fell over the wall. #Corrie pic.twitter.com/mOUvvkLsjt

— david lawton (@lawtondavid1) January 3, 2018
Watch this clip carefully and see if you can spot the blunder...
Just before he takes his tumble he seems to miraculously turn into another man - or should we say stunt double!
Yes, we were shocked too to find that Roy Cropper doesn't perform his own stunts but fans couldn't resist but comment on the fact the double doesn't look anything like actor David Nielson.
Roy's stunt double wasn't much of a double lmfao #Corrie #CoronationStreet #roycropper #itv pic.twitter.com/igORnpviFm

— ::Monkey:: (@M0nk33y) January 3, 2018
Oops!