Fans' Plea For X Factor's Descendance Mum To Quit The Group Gets Results
18 September 2017, 16:06 | Updated: 18 September 2017, 16:35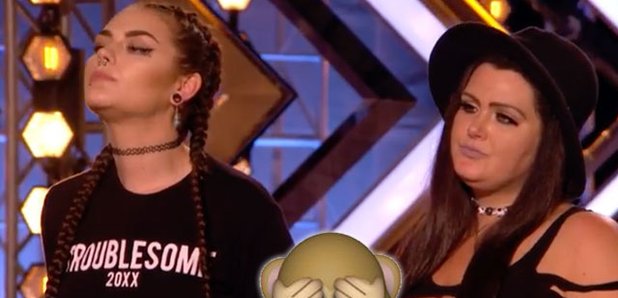 The X Factor mother and daughter duo are finally going their separate ways
Despite being mistaken for sisters on last night's X Factor, there was a clear stand out singer in mum and daughter duo, Descendance - and it wasn't the mum.
After their Macklemore performance, all of the judges agreed that, Debye should let her daughter sing alone, with Sharon advising her to "be a DJ, and join in with some vocals."
Though after bursting into a flood of tears, Debye was still reluctant to leave.
Fans however, were pretty vocal on what they thought she should do, urging her to put the interests of her daughter first.
I think the mum is pretty selfish I would rather my child went on and could possibly win above me been involved #XFactor

— Mia_the_sassy (@miawilliams1982) 17 September 2017
The mum is about to put her up for adoption if she drops her #XFactor

— Cluuur (@Clairey_Galvin) 17 September 2017
The mum needs to let her daughter do her own thing and stop trying to live vicariously through her #xfactor

— love,peace n Harmony (@Valnoon13) 17 September 2017
The daughter is to go through the mom will have to cut the strings and let her daughter fly #XFactor

— Chan Dutton (@vamplacey) 17 September 2017
The Sun have now exclusively revealed that the pair will split during the show's next stages.