Brilliant Or Stupid? Final Sherlock Episode Leaves Fans Confused
16 January 2017, 12:29 | Updated: 14 July 2017, 11:11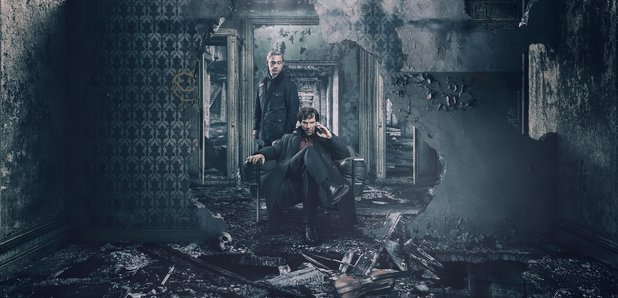 *Contains spoilers* You have been warned...
Sherlock fans have been left in a state of shock after the gory scenes of the final episode of the fourth series, The Final Problem, failed to satisfying the audience, with viewers left confused over the complex storyline.
The end of the BBC drama starring Benedict Cumberbatch at detective Sherlock Holmes and Martin Freeman as Dr. Watson, saw a mind-boggling plot featuring Sherlock and Mycroft's (Mark Gatiss) long lost sister, Eurus (Sian Brooke).
It's all about the legend. The stories. The adventures. Thank you for joining us for #Sherlock. pic.twitter.com/IBEmFma4mZ

— BBC One (@BBCOne) 15 January 2017
And to add more confusion to the mix, Eurus teamed up with Sherlock's arch enemy Jim Moriarty (Andrew Scott), who we saw die at the end of the series three. Are you still with us?
Viewers watched in disgust as Eurus, a deranged psychopath with a split personality, led her brothers on a gory and violent game through an Azkerban-esque high security prison on a rocky island in the middle of the sea.
A final twist in the plot came when Sherlock's memory of his dog 'Redbeard' was discovered to actually be his childhood best friend, who had been killed by Eurus.
Confused? Exactly.
Fans took to twitter to air their frustration, apparently battling with themselves whether it was the best episode they had ever seen, or the worst.
Ok I'm screaming I'm confused I'm crying I'm grinning I WANT TO KNOW WHATS GOING ON #SherlockFinale #SherlockReacts #Sherlock

— Claudia (@awkwardtrashlet) 16 January 2017
#Sherlock I'm happy yet sad, confused yet enlightened, and I don't know.... Yeah, I just don't know.

— Andrea (@Andrea_V39) 16 January 2017
Steven Moffat spends too much time trying to be too clever for his own good. The problems he had with doctor who are the same here #Sherlock

— Michael Lennon (@Soz_abar_me) 15 January 2017
Trying to understand the complicated #Sherlock storyline by using the power of deduction #wtf pic.twitter.com/lgUKJTm4zF

— Hollie Borland (@HollieBorland) 15 January 2017
I know the #Sherlock fandom is divided over that last ep., but there's one thing we can agree on. Mrs. Hudson needs her own spin off.

— Liti (@phantomshadow27) 16 January 2017
The confusion comes as it has been widely speculated that The Final Problem could be the last ever episode of Sherlock.
Speaking at a BAFTA screening of episode two of the fourth series, writer Steven Moffatt said that he is considering wrapping it up after the next instalment airs this month because he doesn't want it go on for too long and risk a dip in its quality.
Moffat said: "We are incredibly aware that this is extraordinary in terms of scale. We don't want to let go of it because it is a wonderful thing but we don't want to keep it going past the time that it should stop.
"It's a big loud note at the end. I didn't mean in the sense I will never do Sherlock Holmes again. Honestly, we don't know, that is the honest truth. We still haven't sat down and worked out what we do."