First Dates Viewers Slam Vegan Who Made THIS Rude Comment About His Date's Menu Choice
19 December 2017, 06:42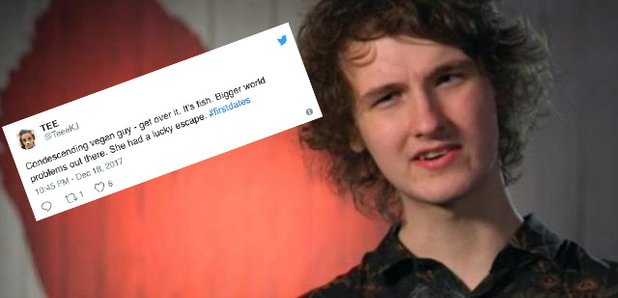 Viewers of the show were left feeling riled after one judgemental character made his date feel very awkward.
The First Dates restaurant has probably played host to a few fussy eaters but fans of First Dates were left fuming after a vegan contestant on Monday night's show was seen bullying his date about ordering a fish stew.
Hari, who boasted about being named after a Hindu god, was seen ordering himself a vegan cider after raising eyebrows by bringing his guitar along with him to the meal.
His date Rachel realised very quickly that Hari was a little more than pretentious and was taken back by his boasts of writing poems on the back of leaves and bemoaning at being born in the "wrong era".
Things took a left turn at the main course when Rachel was made to feel awkward about her choice of dinner, even though she had given no impression that she was a vegetarian.
"I can smell the fish and that's minging. You're eating nice little fishies. Don't you feel guilty? I feel guilty... I feel guilty for you," Hari said pulling faces.
He went on: "You've killed your friends... You shouldn't eat my friends."
It was quite obvious to the viewers and the daters that the pair probably wouldn't be seeing each other again.
Later, when Rachel kindly said she didn't feel there was a spark between them, he brought up the fish all over again!
The 21-year-old replied cattily: "You'd basically finished it before I'd even picked up a poppadom!".
Viewers quickly took to Twitter to slam the contestant for his rude and self-righteous behaviour.
I think this Hari fella belongs on Undateables #FirstDates

— Fat Harry (@leeharrison77) December 18, 2017
Condescending vegan guy - get over it. It's fish. Bigger world problems out there. She had a lucky escape. #firstdates

— TEE (@TeeeKJ) December 18, 2017
This Hari guy tho #FirstDates pic.twitter.com/zYOzZ58nIX

— Heather Hark The Herald Angels Sing (@iamheatherh) December 18, 2017
We think Rachel had a lucky escape!