Friends Fans Get Excited! Central Perk Coffee Shops Might Soon Be A Reality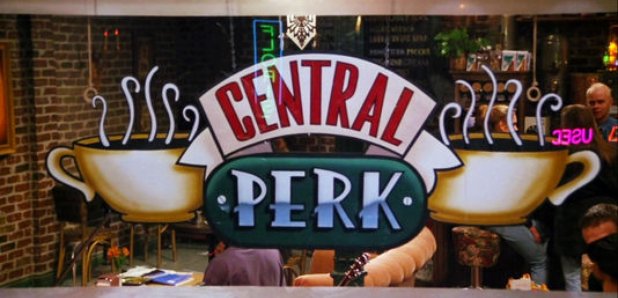 Friends fans get excited, you might be able to buy your morning coffee from Central Perk soon!
There's nothing more synonymous with 90s/00s sit-com Friends than coffee bar, Central Perk.
Our favourite group of pals used to spend so much time in the coffee shop that it left us wondering whether they actually had jobs at all.
Now Warner Brothers have got tongues wagging after they recently obtained a copyright for the name Central Perk for use in 'coffee shop and café services; coffee bars; tea bars; snack bars'.
In other words, Central Perk could ACTUALLY become real.
According to US website, The Blast, who obtained the legal documents for the copyright, Warner Bros have gone as far as copyrighting the logo described as "a banner above a shaded oval flanked by coffee cups with steam rising above them, with the banner bearing the stylised wording CENTRAL and the shaded oval bearing the stylised wording PERK".
Imagine walking down your local high street and popping into a Central Perk for your midday pick me up? It's so easy to imagine and it could easily become a huge success.
Back in 2016, a Toronto resident tried to open his own version of a Central Perk cafe but Warner Bros were quick to shut it down.
Could this be because they were making other plans? Let's hope so!