Game Of Thrones Fans Can Journey To Westeros In LIVE Concert Experience!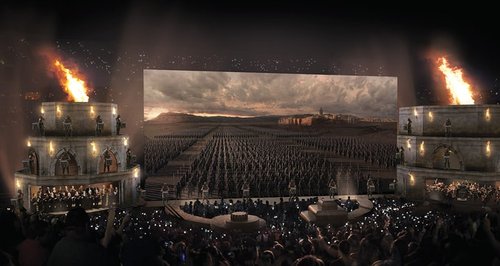 Lucky Game of Thrones fans in the United States can bag themselves tickets to an epic live music event celebrating the Seven Kingdoms. But will it come to the UK? *MAJOR SPOILERS*
The HBO Game of Thrones money machine is still rolling thanks to a LIVE action concert tour. What the what??
Yes, you heard us right, a full orchestra and choir will take to convert venues across the United States to bring the music of Game of Thrones to life.
Game of Thrones composer Ramin Djawadi, who announced the tour of 28 cities at a fan event in Los Angeles, said that state of the art technology would be used to take fans on a journey through the Seven Kingdoms.
He said: "I wanted something that takes you beyond just watching an orchestra play.I wanted to have an immersive experience.
"I think it will be very exciting and very interesting for the audience to not only hear the music again and have the music experience but also to actually see actual players perform with these instruments that they may not even know what they look like."
Okay, how fast can we move to America?
The Game of Thrones Live Concert Experience will kick off on 15 February 2017 in Kansas City, Missouri, before moving on to Madison Square Garden in New York City, the Forum in Los Angeles and other arenas across the US.
Let's just pray they bring this brilliant show to the UK!
Season Seven Spoilers
If you were gearing up for another 10 episode 'Game of Thrones' extravaganza for season seven, think again!
The next series has been cut to just seven episodes according to the show's creators, who are said to be tying up loose ends ahead of season eight, which will be the last EVER! Sob.
Plus, you'll have to wait even longer to get your Jon Snow fix, as the show won't be released in April 2017.
Because of time and weather conditions they're pushing it back to summer 2017.
HOW CAN THEY DO THIS TO US?!
We know what this means...who's up for a GoT marathon?
Game of Thrones Season Six Finale
"Are you afraid? Good. You're in the great game now – and the great game is terrifying."
Has there ever been a more 'Game of Thrones-y' line than this one uttered by Tyrion Lannister in last night's EPIC season six conclusion?!
The episode, titled 'Winds of Winter', put all the chess pieces in place for the big battle for Westeros, which will undoubtedly follow next season. It's worth also mentioning how great the music was in this episode. In fact, some scenes held their own without any dialogue at all.
Here's our take on all the best moments...REMEMBER there are spoilers ahead!
Arya Stark
She may have escaped from The Waif, but instead of heading straight for Winterfell, Arya killed Walder Frey's sons, cooked them in a pie Mrs Lovett-style and then fed them to Walder himself. However, he only lasted a few seconds before she took off her Faceless mask and killed him. We hate to say it, but he really REALLY deserved it!
And for one night only, the part of Mrs. Lovett will be played by Arya Stark. #GameofThrones #Bestpiesinlondon

— Faran Krentcil (@FaranKrentcil) 27 June 2016
Sansa Stark and Jon Snow
Sansa spurned Littlefinger's advances, who admitted that it is his fantasy to sit on the Iron Thrones with Sansa as his wife. Ewwwww. Jon also secured the support of all the great Northern houses thanks, in large part, to the brilliant Lyanna Mormont (see below).
THE BIG JON SNOW REVEAL! R + L + J
OMG OMG OMG This is what we've all been waiting for. It was confirmed in last night's episode that Jon Snow is the son of Lyanna Stark, who we presume died in childbirth. Technically, Jon's father still hasn't been confirmed, but we're betting money on it being Rhaegar Targaryen (Daenerys' brother), which makes Jon a Stark and a Targaryen - both ice and fire. Surely this confirms that 'A Song of Ice and Fire - Game of Thrones' is all about Jon?!
#JonSnow The White Wolf. King In the North. pic.twitter.com/lmQl3BgYBv

— Jon Snow (@ASwordOfIce) 27 June 2016
Cersei Lannister and King Tommen
She's evil. We don't know what was worse, Cersei blowing up the High Sparrow, the Faith Militant and half of King's Landing with wildfire or the fact that her poor son, Tommen, couldn't take anymore stress and heartache and killed himself. This had to be the saddest, loneliest scene of the whole episode.
We were happy to see just how torn Jamie Lannister seemed by his sister's ascendancy...is he having a crisis of conscience?
Poor
Margaery!
Yup, she got blown up. As did the rest of the house Tyrell so, yeah, bad times for them.
Can 'Game of Thrones' surprise us anymore? https://t.co/2xmyS1Ap1j pic.twitter.com/HaNuCiA0HH

— VICE (@VICE) 27 June 2016
The Targaryen, Tyrell, Dornish and Ironborn Alliance
This epic alliance is guaranteed to be interesting next season. Daenerys named Tyrion 'Hand of the Queen', but we can't be the only ones wondering why she has such a hold over powerful men? Perhaps she's becoming evil after all?
Varys travelled to Dorne to get the last of the Tyrells and the Martells on side, so now they're all sailing to Westerns with the Dothraki army and the Ironborn. We're looking forward to seeing how this plays out...
Lyanna Mormont is our new favourite character
She's three foot tall, she's feisty, she's brave, she's more intelligent than most of the other characters combined. She. Is. Lyanna Mormont. Bets on her to be on the Iron Throne at the end of this whole saga?
Bring on season seven!
Season Six: Episode Nine
Sometimes 'Game of Thrones' episodes are so bloomin' brilliant they have you perched on the edge of your seat, and season six episode nine 'Battle of the Bastards' was certainly no exception.
The episode saw Jon Snow face off with Ramsay Bolton in an epic battle for the rights to Winterfell - the ancestral home of the Starks which is now being used as the epicentre of Ramsay's murderous ways.
Although they're horribly outnumbered, Jon and Ser Davros reckon they have a plan of action...that is until Jon looses it when his littlest brother Rickon is killed in cold blood. HE WAS SO CLOSE TO BEING SAFE!!
In anger, Jon and his army make too many mistakes which means Ramsay has all but won. Fortunately, Sansa Stark rides in with Littlefinger and the Knights of the Eyrie to literally save the day. After last week's episode, this is another fantastic dose of #girlpower.
Now, we never really look forward to any gross death sequences in 'Game of Thrones', but how good did it feel to watch Ramsay Bolton get pummelled by Jon Snow and then eaten by his own dogs!
Sansa had the ultimate mic drop moment with this brilliant quote: "Your house will disappear. Your name will disappear. All memory of you will disappear."
Also in the episode Theon Greyjoy and his sister Yara arrived in Meereen to ask Daenerys for help getting the Iron Islands back...and there was some definite flirting going on.
Plus Daenerys showed her strength (is it just us or is she becoming the 'Mad Queen'?) and defeated the masters with a little help from Tyrion Lannister.
Season Six: Episode Eight
Could we have another Stark reunion on the horizon?! Let's hope so!
Yes, 'Game of Thrones' season six episode eight 'No One' saw Arya Stark recovering from her stab wounds, escaping from the clutches of The Waif, and fighting for her life in a darkened room...who walked out alive? Our favourite Stark girl of course.
The adrenaline-fuelled chase sequence was one of the best moments of the series so far, and it had us perched on the edge of our seats. We loved the moment when Arya sliced the candle with her sword, using her experiences of training blind to her advantage.
Now Arya has told Jaqen H'ghar to stuff his blind assassin nonsense in favour of returning to Winterfell to kick some serious bum! #yougogirlfriend.
Elsewhere in the episode, the Hound committed some hideous acts of violence, Cersei discovered her monstrous Mountain bodyguard was rendered useless thanks to a new law and Jamie Lannister was being his usual spineless self!
Daenerys also made a timely arrival at Meereen, which should result in some action in next week's episode. We can hardly wait!
Season Six: Episode Seven
'Game of Thrones' is gearing up for the battle to end all battles, but until then we're stuck in a minefield of politics, deception and *screams in horror* another Stark death? Maybe? Possibly?
So, first things first...The Hound is still alive?! Yes, you heard that right, the good-guy-bad-guy who helped Arya escape Kings Landing is back and didn't die at Brienne's hand.
The episode hinted that the morsel of good in him has survived, but he did pick up an axe at the end of the episode, so we're guessing he's still got a bloodthirsty streak!
Elsewhere, Jamie Lannister was off trying to take back Riverrun for the Freys (who also killed Rob and Catelyn Stark at the Red Wedding), but the Blackfish put a stop to that. Plus he delivered the ultimate burn of the episode, telling Jamie he was "disappointed" in the King Slayer. Too right!

We also caught up with Sansa and Jon who are desperately trying to recruit fighting men for their army...sadly, it's not going so well. However, we're interested to see what trouble Sansa is going to get herself into by sending secret ravens to potential Stark allies...bring on episode eight!
And finally, the other big news of the episode was poor Arya Stark, who was tricked by the waif and stabbed in the stomach! Thankfully she launched herself into the river and escaped, but will she flee Braavos alive? Her storyline is so unfinished, we'd be soooo disappointed if she was to leave us now.
PLEASE DON'T DIE ARYA!
Season Six Episode Six
We're used to a low level of confusion when it comes to 'Game of Thrones', there are just so many characters, places and names to remember it's impossible to keep track.
But we knew something BIG was going down when Benjen popped back up to save his nephew Bran Stark. He was supposed to have disappeared North of the Wall in season one, but now he's half white walker, half human and gearing up to be Bran's bodyguard.
While we were getting over this shock, there was also something interesting going on with Arya, who finally looks like she's sticking it to the Faceless Men and getting ready to escape. Does this mean she will finally get her revenge and end those on her weird 'kill list'. Let's hope so!
Elsewhere, Sam and Gilly had the world's worst 'meet the parents' experience...seriously, how horrendous is Sam's dad Randyll?! We were cheering for the underdog when he nabbed his family's sword and ran off with Gilly into the night.
You go Sam! Next we want to see what happens at the Tower of Joy - maybe that will stop us screaming at the TV!
Season Six Episode Five
OMG, last night's 'Game of Thrones' was ridiculously good, but so, so sad! Click away now if you don't want spoilers...
Season six, episode five 'The Door' explained one of the big questions of the show...what's the deal with Hodor?!
In a terrifying moment fighting the White Walkers, Bran was in the past, but had to 'warge' into Hodor in the present to escape. This meant Hodor's body was being slain by the White Walkers, while his younger self was experiencing the horror in a terrifying fit-like episode. We know, it's an incredibly confusing time-wimey plot line, but soooooo sad!
As Hodor was told to 'Hold the Door' his younger self kept repeating the phrase over and over again until it merged into just 'Hodor'. Now we finally know why that's the only word he can say. Sob.
Technically, that means Bran is responsible for Hodor's lifelong problems and his death. Where's that woman with the big 'SHAME!' bell?
LONG LIVE HODOR! RIP
Season Six: Episode Four
Well 'Game of Thrones' certainly knocked it out of the park in season six, episode four!
Finally, members of the Stark family, aka Sansa and Jon, had a lovely reunion that got us feeling all teary! Now they're on a mission to bring down the evil Ramsay Bolton...THANK GOODNESS FOR THAT.
Now all they need to do is find Rickon, Bran and Arya and our lives will be complete!
Predictably, the internet had a lot to say about the episode, which also included a brilliant scene with Daenerys Targaryen killing all the Khals to make herself leader of the Dothrakis. You go girlfriend...
Game of Thrones Season Six: Episode Three
There was so much going on in 'Game of Thrones' season six episode three it's hard to know where to start!
The award for 'Most Annoying Character of the Week' has to go to the Three-Eyed Raven aka the man in the tree, who stopped Bran from discovering what's in the Tower of Joy...could it be baby Jon Snow and his mother Lyanna Stark?
Meanwhile Jon Snow gave the men at The Wall a collective heart attack when he emerged from the dead, but he still managed to enact bittersweet revenge against those who stabbed him last season.
But the big shocker came at the end of the episode when Jon handed over his furry Lord Commander coat and announced that 'my watch is ended', signalling that he is now an 'Oathbreaker'! Where will he go? What will he do? Will ANY OF THE STARK SIBLINGS FIND EACH OTHER ever again?!
Oh, and little Rickon Stark (who is now a fully-fledged teenager!) is in the hands of Ramsay Bolton...this can't be good.
Maisie Williams drops serious spoilers!
'Game of Thrones' hysteria has hit unprecedented levels in the past few weeks, and the cast seems to love nothing more than stirring the pot! Yes, Maisie Williams, we're looking at you…
The British actress plays orphaned Arya Stark who's basically been on a dodgy downward spiral since she was forced to escape King's Landing.
We've followed Arya, her sister Sansa and brother Bran all the way through to season six, but what ever happened to little Rickon, the youngest of all the Stark siblings? We haven't seen him since season three!
Well, according to Maisie Williams the character could be gearing up to return in a big way. When asked whether we will hear from the Stark brother in season six, Maisie let slip: "Yes, we will indeed…Oh no, I'm literally going to get off the air and someone's going to email me!"
All this suspense is killing us!
Season Six: Episode Two
It's official, Jon Snow's fate has finally been revealed and boy was it worth the wait.
The Lord Commander of Castle Black rose from the dead thanks to a little magic by the Red Lady Melisandre...although she presumed she'd failed leaving Jon to wake up naked on a slab all on his lonesome.
They're going to get a bit of a shock when he does his zombie routine in the next episode!
Predictably, the wonderful world of the internet had a few quipy remarks to mark Jon's resurrection...
The next episode #GameOfThronesSeason6 pic.twitter.com/YXB7Z74L1d

— Jon Snow (@JonSnow_18) 2 May 2016
Jon Snow gets resurrected and Leicester City win the title on the same d

ay. What a time to be alive! pic.twitter.com/FP4lg4UUmH

— Football Funnys (@FootballFunnys) 2 May 2016
Knew Jon Snow would be back but my reaction was still pic.twitter.com/kj6y7Hy6Cz

— Jake Jackson (@jakejackson90) 2 May 2016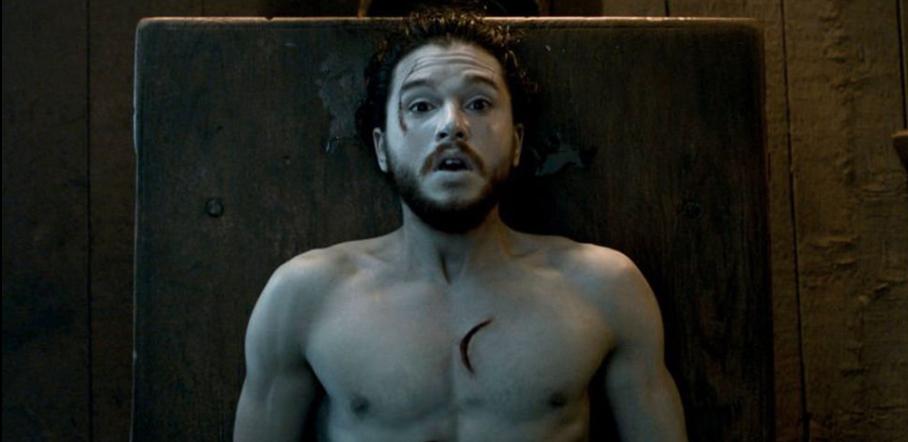 Look at Kit Harrington's 'I've just come alive' face in the picture above. It's already a classic!
Even Justin Timberlake shared his excitement...
JON SNOW!!!!!!

— Justin Timberlake (@jtimberlake) 2 May 2016
Season Six: Episode One lowdown
The first episode of the epic fantasy drama's sixth series (yes, it has been on the air six years which makes us feel old) was a corker too!
Here are 10 crucial *sort of* thoughts we had during the hour-long episode.
Oh, and unless you haven't realised by now, this article contains massive amounts of spoilers. Read at your own risk...
1. So much for Jon just jumping up, brushing himself down and shouting 'hahahaha suckers!'
He may ACTUALLY be dead, which makes us very sad indeed. However, did the blood spatter look a little teeny tiny bit like a dragon in flight? Nope, we won't go there until Jon rises from the dead, which he will do. He will. We hope.
2. Will the resurrected Jon Snow/Ser Davros lead an army of Wildlings this season?
It's hinted that the only way Jon's loyal brothers will win in this battle of wills is to lead an army of savage Wildlings against the Night's Watch. Ohhh this should be fun #bigfightscenecoming
3. Can someone please give Ramsay Bolton what's coming to him?
Wow he's a nasty piece of work! He basically offered his deceseased girlfriend's body as dog food!! One day, hopefully soon, this character will meet his grisly end...but we will miss how brilliant actor Iwan Rheon is.
4. Come on Sansa, cross the river!
We know it's ice cold water love, but you're being chased by your psychotic husband and his pack of soldiers with hounds...run faster!
5. Brienne is the bravest, boldest most brilliant GoT character EVER!
We're never going to get enough of the brilliant Gwendoline Christie as Brienne of Tarth just casually saving the day. Now she can finally fulfil her promise to Catelyn Stark and take care of her eldest daughter. Although let's hope they don't go looking for Jon Snow as that will be a massive let down...
6. For a split second we actually feel sorry for Cersei Lannister
Lena Headey is such a great actress we couldn't help but feel sorry for Cersei when Jamie returns with the body of her (their) daughter, Myrcella. We get the impression that these two are going to morph back into the creepy ultimate power couple they used to be in the first couple of seasons. Now that's good TV!
7. And now there's a Dornish revolution to contend with!
We know Game of Thrones is violent, but this grossly coup scene left us feeling a bit queasy. We think it is safe to say that sisters are really doing it for themselves in this episode...
8.
Daenerys is in a sticky situation, but she's not going down without a fight
She's been nabbed by a gang of hideously sexist Dothraki who don't think she can speak the language...until she reveals she's the ex-wife of Khal Drogo and they threaten to send her off to a widow's retreat of some description.
9. Poor Arya Stark...this kid just can't catch a break!
She's blind, dirty, starving and now she's being smacked in the face with a giant stick. When is Arya going to become the ultimate assassin and get her revenge on all those who wronged her family? We don't normally wish for violence, but this is kind of important to the progression of her character, no?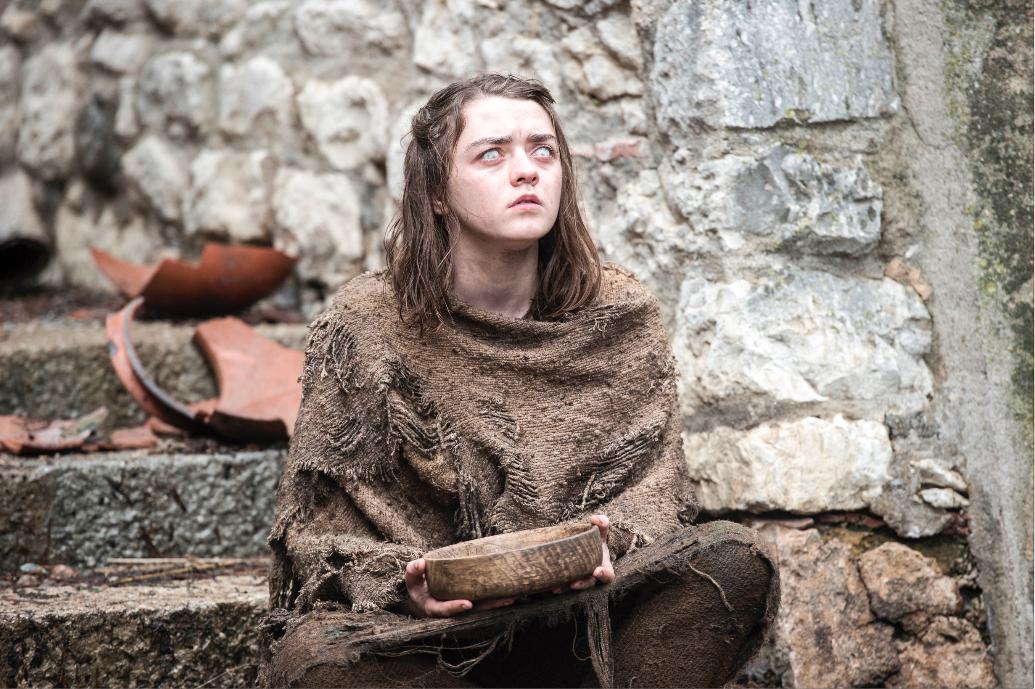 10. OMG OMG Why are we looking at a naked grandma right now? Are we watching 'The Witches' or 'Hocus Pocus'?
Okay, so Melisandre getting naked isn't exactly new, she's always seducing somebody or another, but...oh god why has she transformed into an old withered naked lady? This is the first MAJOR plot twist of the season and proves that the Red Lady has a lot more secrets than she is letting on.
.@GameOfThrones: 10 Cast Members React to That Stunning Melisandre Twist https://t.co/zRkOcaLIj9 pic.twitter.com/XtWmj3Xbvv

— Michael Ausiello (@MichaelAusiello) April 25, 2016
What did you think of the season premiere? Let us know here...