Bake Off Fans Are Calling For A Spin-Off Show About Val's Trip To Ayia Napa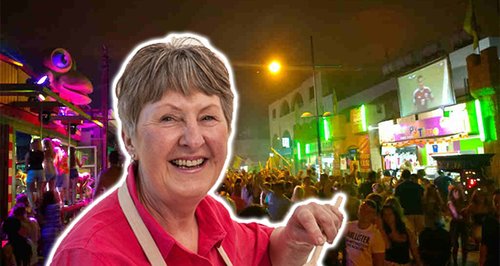 Do we reckon the 66-year-old will be living it large and go clubbing? Plus Selasi threw a bake off party for all of the bakers and we can't cope.
Fans were left both elated and saddened by the Great British Bake Off 2016 final. Whilst we were all ecstatic for Candice Brown's win, we also mourned the last series being aired in its current format on the BBC.
However, some things were revealed that is helping us get through the loss of the show, Val's trip to Ayia Napa for one. Here's a round up of the best things to happen on a GBBO final behind the scenes.
Val's planning a baking trip to Ayia Napa
This is probably the best thing to come out of series six of the hit amateur baking show. At the end of the episode, a special credit reel told us what each of the bakers were up to now and it was revealed that Val is planning a trip to the Cyprian clubbing resort of Ayia Napa.
Apparently the island has a keen baking scene but that didn't stop fans from TV viewers demanding a spin-off show about her trip, and picturing what it's going be like.
Okay @BBCOne you may have lost bake off but can we have a show about Val's adventures in Ayia Napa? #GBBOFinal

— Beth Williams (@bth_williams) October 26, 2016
Looks like Val is having a great time in Ayia Napa #GBBOFinal pic.twitter.com/ipeLEZ8arW

— Harry (@harrylethaby) October 26, 2016
Immediate petition for a TV crew to follow Val's trip to Ayia Napa #GBBOFinal https://t.co/ymocCyOhNv

— Katie Boden (@katie_boden) October 26, 2016
Selasi held a wrap party and all of the bakers were there
It was with sadness in our hearts that we waved goodbye to Selasi Gbormittah in the semi-finals but it's okay because his twitter feed is getting us through.
Last night he posted a video of all of the bakers from series six having a celebratory party hosted by Selasi and it looked AWESOME. And Val's selfie skills are en pointe...
Thanks to all the bakers for coming to the party! They're in there somewhere! Great finals #gbbofinal now time to dance and drink pic.twitter.com/aVFc210lYa

— Selasi Gbormittah (@selasigb) October 26, 2016
Finalists Candice and Jane are planning a road trip together
Despite rumours that finalists Jane Beedle and Candice Brown are bitter enemies in the tent, the pair are actually good friends and are planning a a road trip together.