Host James Corden FALLS Down The Stairs Opening The Grammys LIVE On TV
13 February 2017, 09:22 | Updated: 27 July 2017, 09:24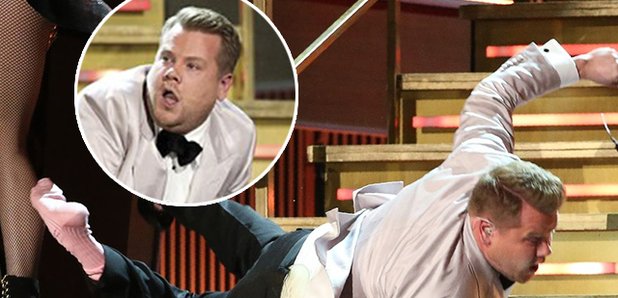 James Corden's epic Grammy's opening routine saw him fall down the stairs and appear on stage in his socks!
Adele warmed up the crowds by opening the Grammy Awards 2017 with her iconic hit Hello from her award winning album, 25.
The crowd of A listers cheered and clapped as host James Corden appeared on stage at the top of a set of golden stairs. And then, in an awkward moment, James Corden FELL down the stairs, initially disappearing down what seemed to be a missing step, only to hike himself up and roll the rest of the way down.
La "accidentada" entrada de James Corden en los #GRAMMYs pic.twitter.com/mSfBPCKaEQ

— ciudad_com (@ciudad_com) February 13, 2017
In a tense few moments where the crowd was unsure of what was going on, Corden flustered as he picked himself up (wearing only one shoe might we add!) amid an encore of dancers who were already in the midst of a routine which Corden was clearly supposed to be part of.
Looking to the side of stage he began cussing the stage crew. He shouted: "Stop it! Stop it, I said. Stop. This is a disaster.
out of breath, he continued: "We have rehearsed this and rehearsed this and rehearsed this.
"This is the Grammys, people! We can't allow these sort of mistakes. I mean, come on!"
The host of CBS's The Late Late Show then ordered his dancers off stage.
However, the mood drastically changed when he cheerfully began to rap his opening number and the joke became clear.
In what turned out to be a faux routine, the audience seemed to delight in Corden's personalised musical opener which seemed to take a swipe at President Donald Trump.
#grammys2017 host #JamesCorden calls out #DonaldTrump in opening rappic.twitter.com/vehp5DCyQ1#Trump #Corden #GrammyAwards #grammy#GRAMMYs

— AlexCam (@1alexcam) February 13, 2017
Throughout the ceremony, Corden kept the crowd thoroughly entertained, by walking through the audience with a cardboard cut out of a car and inviting celebrities to join him behind it for a 'cardboard karaoke and even once appearing on stage in his pants!
Elsewhere during the evening, the 38-year-old presenter enlisted his parents Margaret and Malcolm for another sketch.
James explained how they had come along to support him, even though it was their 45th wedding anniversary, but when he went to introduce them to the cameras he suddenly stopped.
He exclaimed: "Dad, what are you doing with Heidi Klum?"
The camera revealed Malcolm was sitting in an aisle seat with the German supermodel sitting on his lap and his dad quipped: "Well, your mom and I have an understanding and I used my free pass tonight."
Heidi said: "What are you gonna say James? He's the cutest!"
And James then discovered his mother was sitting with Nick Jonas.
The Jealou' hitmaker said: "Sorry James, your mom's a lovely woman."
Whatever next James!