Is This The End Of Bake Off As We Know It? Two Massive Departures Have Been Confirmed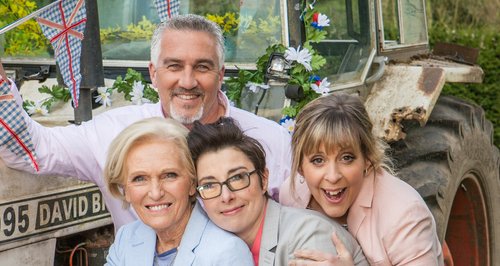 As the news emerged that the BBC have lost the rights to the Great British Bake Off. First the internet broke down and now two other MAJOR changes have been announced.
Get ready to cry into your arctic rolls and gingerbread mixtures everyone!
Wednesday night classic the Great British bake Off is currently broadcast on BBC One, but according to sources, the publicly funded broadcasting channel offered £15million to keep it - £10million short of what Love Productions wanted.
As a result, Channel 4 picked up the bill and is set to host the show from next year.
When the decision was first announced, Bake Off presenter Sue Perkins thought the production company should rethink the move, and retweeted the BBC press release describing the show as 'quintessentially BBC'.
But since then, more MAJOR news has broken - Mel Geidroyc and Sue Perkins will not be moving with the show to Channel 4.
In a statement Mel and Sue said: "We were very shocked and saddened to learn yesterday evening that Bake Off will be moving from its home. We made no secret of our desire for the show to remain where it was."
It's still not clear whether Mary Berry and Paul Hollywood will stick with the show, but Mel and Sue are baking pun goddesses and the show certainly won't be the same without their hilarious commentary.
The news of the move went down like a soggy bottom on the Twittersphere and fans have been expressing their concerns in the only way they know how: with baking puns and an all round British no-nonsense attitude.
#SaveMelandSue!
Someone do something. BAKE OFF IS DYING. #SaveMelAndSue #StayOnTheBBC #WhatsTenMillionPoundsBetweenFriends?

— Clare Bennett (@ClareVMB) September 13, 2016
Mel and Sue are quitting Bake Off!?!? Oh 2016 pic.twitter.com/1GEQwDLoas

— Jess Hearts Books (@JessHeartsBooks) September 13, 2016
i cant believe mel and sue are actually quitting bake off pic.twitter.com/5SMtq2O0Fs

— cec (@siriusonion) September 13, 2016
Mel and Sue quit!

Here's the future of #GBBO summed up in one GIF pic.twitter.com/jYZii3ayEx

— Michelle Sammet (@michellesammet) September 13, 2016
bake off without Mel and Sue and Paul and Mary? may as well go and watch the staff in greggs pop a pasty in the oven, jaysus

— morgan (@mtaylorabbott) September 12, 2016
Oh Ron. Mary would be proud:
Fancy that .... a Flaky production company. #bakeoff https://t.co/DNLiDrG4q5

— ron cameron (@Radio_Ron) September 13, 2016
When one's wife won't even be watching:
My wife says she won't be watching. #Bakeoff https://t.co/gH9G1EQ0I9

— Jonathan M. Ratcliff (@JRatcliff01) September 13, 2016
Money is the root of all evil:
It all came down to dough #GBBO

— Frances Quinn (@frances_quinn) September 13, 2016
The news came on the same day former PM David Cameron announced that he'd be stepping down as an MP:
I know a lot of the team at Channel 4 and I'm hearing David Cameron as the new host of 'Bake Off'.

— Richard Osman (@richardosman) 12 September 2016
Protecting oneself from the middle class uproar:
I'm lucky I live in a rough area so the 2016 #GBBO riots shouldn't reach me.

— Fromage a trois (@Paul_Hawkins83) September 12, 2016
#Breadxit:
It's fine. Nothing will actually happen until Mary Berry triggers Arctic Roll 50. #Breadxit #GBBO

— Claire Davies (@cloudavies) September 12, 2016
When words are simply not enough:
Visual representation of what Great British Bake Off will be like on Channel 4. #GBBO pic.twitter.com/zE3pPswtZt

— Matt Turner (@MattTurner4L) September 12, 2016
Think of the books!
#GBBO sad day for #bakeoff fans. Just like my local bookshop turning in to a subway .

— Mary H (@mary_hesar) September 13, 2016
Because throwing that all British strop has always worked in our favour:
I don't want my #bakeoff viewing to be interrupted by adverts *sob* *stamps foot* #GBBO

— Catherine Ronald (@CatR_tweets) September 12, 2016
There's always one optimist...
Why's it such a big deal about #bakeoff leaving the BBC? Surely as long as we get to watch it still that's all that matters?

— Tam (@TamCleverly) September 13, 2016
Remember, this series is still on BBC One so remember to tune in at 8pm on Wednesday.