GBBO's Nadiya Hussain and husband re-wed 14 years after arranged marriage
18 December 2018, 16:49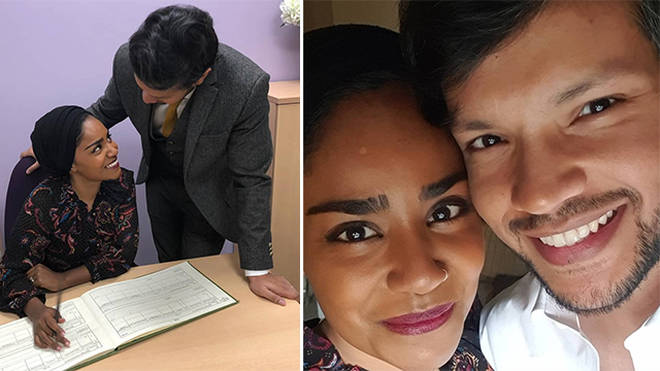 GBBO 2015 winner Nadiya Hussain and her husband have tied the knot for a second time in a traditional Islamic ceremony.
Great British Bake Off champion Nadiya Hussain has shared some sweet snaps on her Instagram account after re-marrying husband Abdal in a traditional Islamic ceremony.
Nadiya, 33, and Abdal, 33, were forced into an arranged marriage 14 years ago after meeting each other just the once when they were both 19.
Writing on Instagram, a loved-up Nadiya wrote: "Nothing fancy just love. No frills. Just us. We did it again. I do. I always will. I would do it all over again."
READ MORE: Nadiya revealed she said 'no' to Strictly Come Dancing
Meanwhile, her husband posted to Twitter: "You can't run away from me now. I love you to infinity and beyond Xxx".
The baking queen has previously revealed that she cried throughout her arranged marriage, citing it as 'one of the worst days of her life'.
However, she soon learned that she'd been matched with her soulmate.
Nadiya said: "Our rule was always that regardless of what happens, we can't leave each other. So that meant we had to work through everything.
"Marriage isn't easy, especially when you don't know somebody very well. There were definitely times when I could have said, 'I'm done. I'm not enjoying this any more'.
"But we have always been very happy. I'm one of the lucky ones."
The couple share three children - sons Musa, 9,and Dawud, 8, and five-year-old daughter Maryam.