Holly And Phil Have Us Blushing AGAIN With A Cheeky Innuendo On This Morning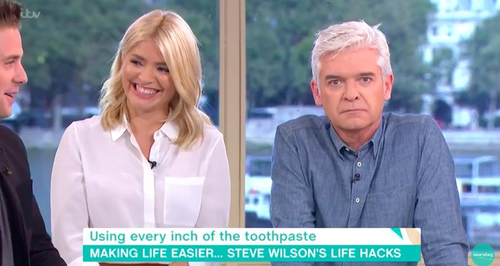 Between them Holly and Phil have cracked more than enough innuendos over the years, but this latest one is SUPER cheeky.
Holly and Phil have provided the nation with their fair share of LOLs over the years.
We love them as a dynamic duo and their on screen banter ALWAYS has us in fits of giggles.
A latest verbal slip up had the 35-year-old declaring she was an 'end squeezer' during a segment about life hacks.
The end she was actually referring to was that of a tube of toothpaste - so put your dirty minds to rest people!
But before long Holly, Phil and their co-presenter Steve were all in fits of giggles thanks to Holly's questionable choice of words!
They managed to compose themselves eventually but we sure it won't be long before another episode brings another cheeky joke from the pair.
LOL!