Holly Willoughby backs campaign to make "upskirting" illegal
23 March 2018, 13:11 | Updated: 23 March 2018, 16:09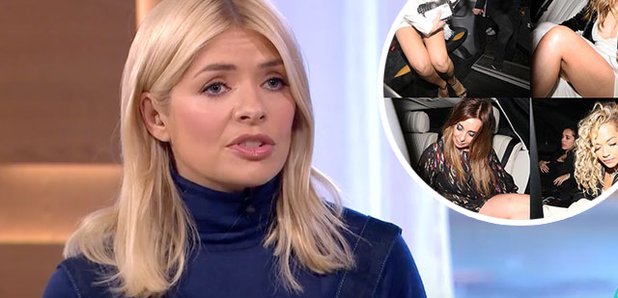 Holly Willoughby opens up on This Morning about her uncomfortable "upskirting" experience at The BRITs.
Holly Willoughby has finally opened up about her "upskirting" experience at last month's Brit Awards.
The day after the ceremony, Holly Willoughby took to Instagram to share a collage of indecent images taken from a low angle of herself and other celebs including Abbey Clancy and Louise Redknapp as they got in to cars after the bash.
Following her social media rant over the inappropriate photos, on Thursday's This Morning, the mum-of-three spoke with campaigner Gina Martin, who is pressuring the Government to make 'upskirting' a criminal offence.
After Gina explained her own "humiliating" experience, Philip Schofield began to discuss what Holly, 37, went through.
He said: "'Working with Holly and other women in this industry, you notice that at events with the Time's Up campaign… you have women walking down the red carpet with white roses, saying, 'Okay, time's up'. Then at the end of the night you've got paps taking those [photos].
"That's a mild image compared to some of the ones you see. You see the cameraman go really down on the floor."
Holly then interjected saying: "Oh yeah, they go really low, and then it's 'grapples with her assets', and it's like, well that's not what was happening,
"I was trying to hide my modesty, I was trying to protect myself."
Holly went on to express her support of Gina's campaign, telling her: "Well done you for being brave enough and making a stand.
"I'm right behind you, I hope that it makes a change, finally."
Watch more: