Holly Willoughby Left In Stitches After Cheeky Puppy Blunder
8 September 2017, 16:24 | Updated: 30 September 2017, 19:12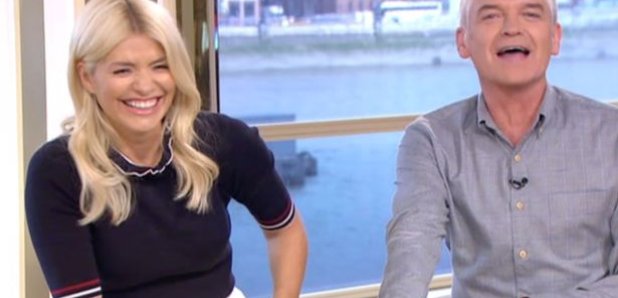 The puppy impressed the presenters with his adorable nature.
Holly Willoughby was left with the giggles yet again after an unfortunate mishap on This Morning.
Phil and Holly had been joined on the show by ITV's puppy Digby, but of course the cameo by the canine didn't go smoothly.
Who couldn't love Frenchie? pic.twitter.com/IQNWkYKByF

— This Morning (@thismorning) September 8, 2017
The puppy impressed the presenters with his adorable nature, and naturally, they cooed over the dog and even commanded it to sit successfully.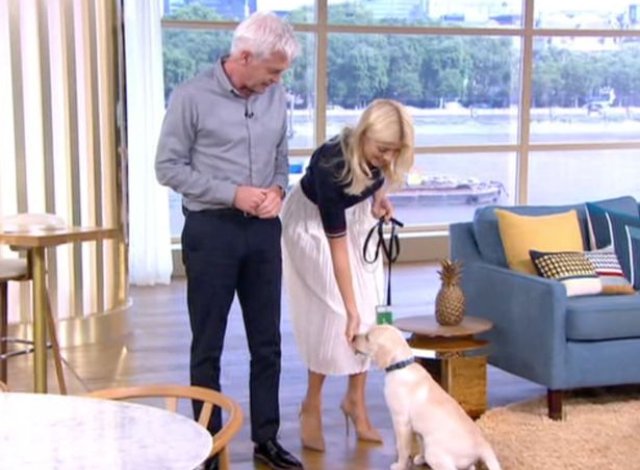 However, things soon took a turn for the worse when Phil looked a little bit uncomfortable.
In a strained voice, he told viewers: "That puppy's just caught me in the nads."
Holly couldn't help laugh: "I know, I noticed that."
The hilarious moment comes after what has been quite a few animal mishaps in recent months.
Presenting duo Holly Willoughby and Phillip Schofield were speaking to a pony trainer about whether guide ponies could replace dogs in the years to come when a bizarre incident occurred.
Phillip said: "A guide dog is unlikely to poo on the kitchen floor. Can horses be house trained?"
As Phillip was asking the question, the pony pooped on the studio floor, prompting the presenter to say: "Oh there we go, perfect timing, absolute perfect timing!
"I'm sure that a person who has impaired sight would find that extremely useful on the kitchen rug. Very good. I think you've proved my point here, that there are limitations between horses and dogs."
The pony trainer kept calm during the rest of the memorable segment - but Holly struggled to contain her giggles and compose herself.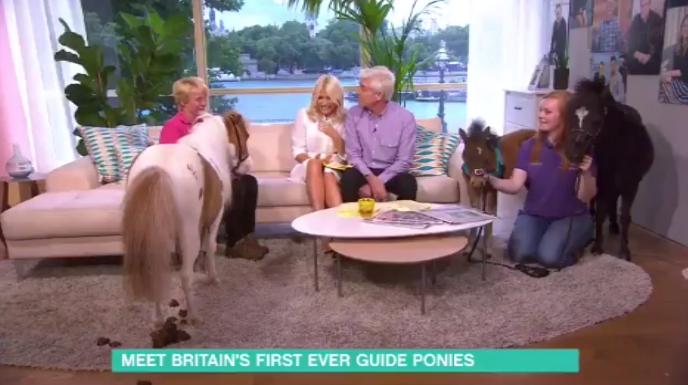 Picture | ITV
The surreal scenario came less than a month after Holly had to hide her face from the cameras because she'd burst into a fit of laughter.
In June, the 36-year-old beauty was reading out a list of segments set to appear on the show, which included her long-time showbiz pal Fearne Cotton making some beetroot cupcakes in the kitchen.
Holly said: "At 12:15, we'll be tasting Fearne Cotton's cupcakes..."
But the turn of phrase left Holly incapable of continuing and as she crouched on the floor to escape the attention of the TV cameras, Phillip assumed control.
He said: "I can't believe you have to do that. You're doing it on telly so you don't wet your pants. Here's the beauty desk." Then, Holly got to her feet and added: "You're not helping ... I'm back, I'm back."