Honey G Performs Her OWN Song On X Factor Finals Despite Being Booted Out!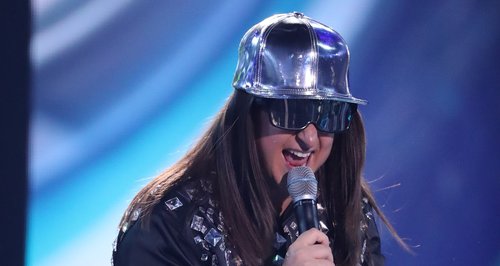 Just two weeks after she was voted off the show, rapper Honey G returned to the X Factor to perform her new single, The Honey G Show, which will be released a week after the official X Factor single.
She wasn't the first controversial character on the X Factor to divide the nation and we're pretty sure that she won't be the last. But she is definitely the first contestant to perform her own song on the show just TWO weeks after she was booted off the show.
The 35-year-old rapper took to the stage once more to perform a mashup of some of her biggest covers from the show and confirm to viewers that she has indeed been signed to Simon Cowell's record label, Syco.
I am ecstatic to announce I have been Signed by SYCO, Simon Cowells record label and will be releasing my first single on 23rd December.

— HONEY G - RAP ARTIST (@The_Honey_G) 11 December 2016
During the explosive show, Honey G and the 'X Factor' judges - Simon Cowell, Louis Walsh, Nicole Scherzinger and Sharon Osbourne - all wore Honey's trademark sunglasses, which had been blinged out even more for the final. Her name scrolled across each pair of glasses in little LED lights.
Honey, who's real name is Anna Georgette Gilford, is the first former contestant to perform a solo track at the final of the series which they took part in.
After the show, Honey told host Dermot: "It felt wicked. I just want to plug my single that's coming out on 23rd December called The Honey G Show.
"Everyone who's locking in we're going to rip it up, tear it up. This is the official Honey G takeover."
But not everyone was pleased to see her back on the stage so soon. Fans took to Twitter to blast the rapper and the decision to allow her to perform on the same night as A-Listers Kylie Minogue, Little Mix and Louisa Johnson.
What a joke. Some serious unsigned talent in the world and honey g gets a record deal. Our record industry which once flourished is dying https://t.co/aa9NyxV2Oy

— Brian Mcfadden (@BrianMcFadden) 11 December 2016
It's absolutely disgusting that #honeyg was allowed to perform on the #xfactorfinal AND have a single before the winner even does #XFactor

— Heidi (@HeidiMcPiedy) 10 December 2016
A few years ago Xfactor had guest singers such as Beyoncé and Whitney Houston... this year we have #HoneyG #xfactorfinal #xfactor

— Angellina1992 (@angellinamarie1) 10 December 2016
imagine wasting your hard earned money on buying honey g's new single

— nathan (@trixieszamo) 12 December 2016
It does make me feel a bit sad people being nasty to honey g about getting signed, there's no need for it

— Sophie (@sophieisboring) 12 December 2016
Ouch... Well, you never know what is in store for the rapper. The future is bright - so don't lose those sunglasses Honey G!