Hungover Holly And Phil Are A 'No Show' On This Morning
24 January 2018, 15:02 | Updated: 24 January 2018, 17:45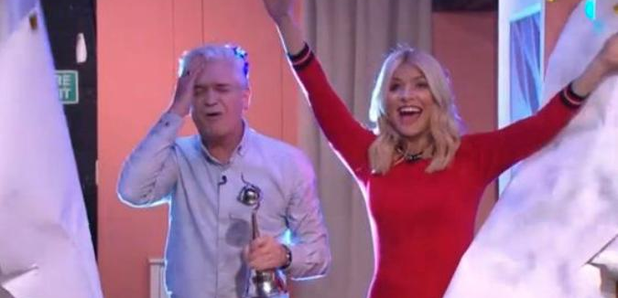 They were pretty worse for wear after the NTA's last night.
Every year, watching Holly Willoughby and Philip Schofield present This Morning hungover, after the NTA's, makes for great TV.
The show gave its audience a fright when a disruption message appeared at the beginning saying: "We're sorry for the disruption. Our presenters haven't turned up. We're working hard to fix the issue".
After a few minutes Holly and Phil came bursting through the sign, confessing they spent last night "getting p****d".
And whilst Holly was in a slightly better state after dining on a full English breakfast AND pizza, just the sight of a bacon sandwich set Phil off, as he begged Holly: "I may barf in a moment if you don't stop, I swear, put it down, don't take it over there, oh please don't take it over there [to the sofa]."
He also had a croakier voice than usual, admitting that it had "gone down an octave", but all the same, "We had such a laugh".
Holly's heavy night began at the National Television Awards afterparty, where she was spotted rubbing shoulders with a number of stars who all celebrated their win with plenty of wine courtesy of Echo Falls who sponsored the event.
The night took a hilarious turn when Holly set up an Instagram account for The Chase host, Bradley Walsh.
Holly shared a selfie of her and Bradders, happily captioning the pic: "I actually love this man @bradderswalsh ... he's just joined insta!... give him hell!!!"
Whilst Bradley who was a little more worse for wear posted a hungover picture of himself alongside the caption: "Oh dear... woke up this morning with a headache and an Instagram account. @hollywilloughby bad girl!!!"
Holly's gesture might have been payback, for Bradley crashing the stage at the NTA's when her and Phil went to collect their award.
She began her speech saying:"I'm lucky to work with not only one of my best friends, but as far as I'm concerned, the best team in the business." Before noticing Bradley on stage and calling out: "Bradley Walsh! What a devil!"
Roll on next year.
Watch more: