Watch James Corden Seduce Christian Grey In This Hilarious 50 Shades Parody
8 February 2018, 13:22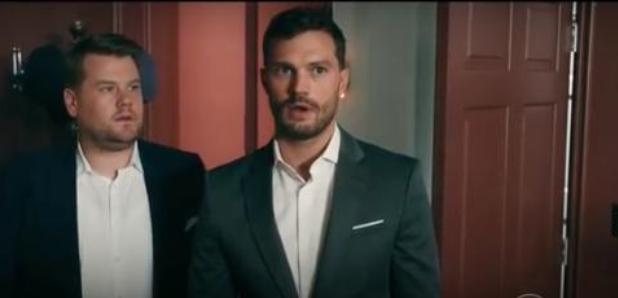 Things get steamy between James Corden and 50 Shades' Christian Grey on the Late Late Show,.
With 'Fifty Shades Freed' set to hit cinemas this Friday, James Corden took the opportunity to share some bonding time with Jamie Dornan who plays Christian Grey - and let's just say things got a little steamy!
During Tuesday night's The Late Late Show, James and Jamie parodied the scene from the first film, when Christian showed Anastasia Steele his Red Room of Pain.
This time however, it was James showing Jamie his "play room".
Briefing Jamie before he entered, he hilariously explained: "It's important to know that you can leave at any time."
Agreeing to step into the unknown, Jamie's face appears startled as the camera pans round to reveal… wait for it… a room full of model train sets.
Yeah, no whips in sight this time round. But Jamie was still stunned to silence, to which James pleaded: "Say something, please,"
After a pause, Jamie replied, "You're a nerd."
James interjected: "I'm a hobbyist," then added: "Can I show you? Turn around."
Seducing Jamie, James then begins to dress him up in train conductor gear, and then puts on a matching outfit, before they start riding the trains together.
As things start to get super steamy however, Jamie says: "James, you ever play Dungeons and Dragons?" Appalled, James kicked him out, shouting: "You sick, sick b*****d! Get out! Leave! LEAVE!"
Hilarious.
Watch more: