James Corden Makes Gordon Ramsey Eat Fish Eyes In Revenge Prank That Will Make You Gag!
3 August 2017, 08:13 | Updated: 3 August 2017, 09:34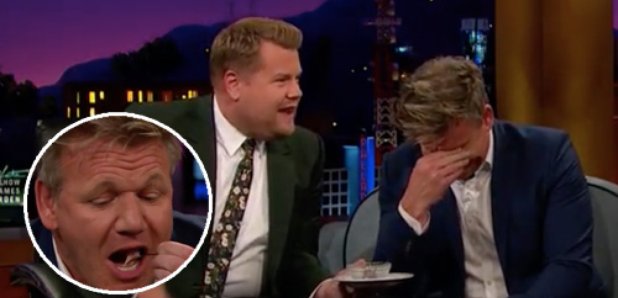 The Late Late Show host decided to get his revenge on the potty-mouthed chef.
As one of the world's best chefs, Gordon Ramsey has probably tasted his fair share of tasty dishes.
However, the potty-mouthed star certainly had his mouth full on Tuesday night as he tucked into a slimy fish eye as part of a prank by James Corden.
The 'Late Late Show' host was more than happy to remind Gordon of the time he was forced to eat the gruesome anatomy seven years prior when he made a visit to the chef's restaurant on 'The F word'.
James claimed that Gordon dared him to eat the fish eye and if successful his whole family would be treated to a free slap-up meal.
However, James made clear that Gordon never upheld his end of the bargain and it was time for some revenge.
"I thought, it's been seven years, waiting for a dinner! Maybe it's payback time!" James declared as he brought out the fish eye served on a silver platter.
Gordon looked nervous as the audience cheered him on and it wasn't long before he buckled to peer pressure.
Unfortunately for Gordon, the slimy eye just wouldn't go down and he spat it out as he tried to swallow.
We feel sorry for the people in the splash zone, sitting front row.