James Corden Gets A Bloody Nose After Karaoke Stunt With Shaggy And Sting!
29 January 2018, 12:47 | Updated: 29 January 2018, 15:54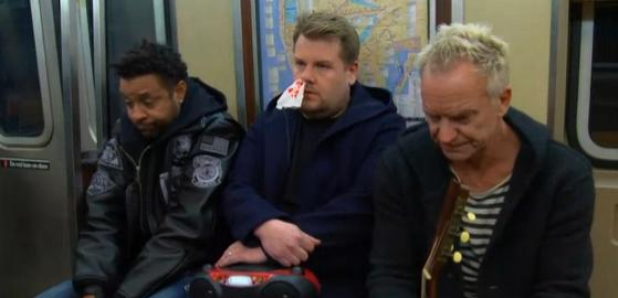 And let's just say commuters weren't too pleased…
During last night's Grammy Awards, the show's host James Corden ditched his car for the Subway, and dubbed the clip Subway "pool" karaoke instead - roping Shaggy and Sting along with him too!
The unlikely trio took to the Underground singing 'Every Breath You Take', and wound up a bunch of passengers in the process.
One commuter apologised for not having any money to tip the boys, to which James snapped back: "We're not begging, we're trying to create a viral moment!"
Then one construction worker yelled: "Hey fellas, knock it off!" to which James replied: "We're just..." And the worker chimed in: "What? Annoying everyone on the train?"
As things got heated, James wound up getting punched in the face with a bloody nose.
The three later attempted dancing around to Shaggy's classic hit, 'It Wasn't Me,' before one woman told James that nobody wants to hear him sing. Ouch!
This isn't the first time that Shaggy and Sting have performed together however, as the Rock legend and Reggae singer recently announced that they'd recorded an album together, called 44/876.
Love it!
Watch more: